January 1, 2019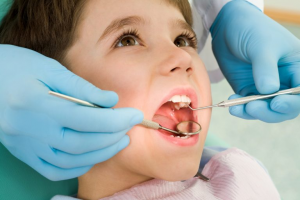 Parents would do their best to protect their children at all cost – from providing them with toys that are guaranteed safe, to choosing the best vitamins to help them with their growth and development. Everything is carefully picked to make sure that nothing will cause them harm and that they will stay protected. At Midland Kid's Dentist, we encourage parents also to consider adding protection to their kids' oral health. Although proper brushing, flossing, and rinsing techniques are observed, the little ones are still at risk for tooth decay.
Two of the essential factors in a child's overall health are healthy teeth and gums, that is why dentists highly recommend parents to care for their children's oral health even before a tooth erupts. It is also recommended to bring children to the dentist once the first tooth appears and no later than their first birthday.
Aside from maintaining routine dental visits, both the American Academy of Pediatrics (AAP) and American Dental Association (ADA) advise parents to consider a fluoride application for their children. For those who are unfamiliar of this treatment, here are the things to know:
What is a Fluoride application?
It is a treatment performed by a dentist to help patients prevent tooth decay from accumulating and worsening. The primary ingredient used is fluoride, a naturally occurring mineral that can be taken from certain foods and beverages.
The treatment will not completely prevent but will only help with the prevention of cavities. It is still necessary for parents to teach their children proper dental hygiene techniques while they are still young to develop a strong foundation. Scheduling regular appointments and providing them with a healthy diet can also assure parents that their kids will have excellent overall oral health.
How does Fluoride work?
The mouth is home to bacteria which can feed on the sugars from the foods and beverages eaten by a child. It can result in the production of acids that can attack the enamel (the tooth's surface). The acid would gradually wear down the teeth which lead to cavities. Fluoride works by coating each tooth to make it stronger and resistant to acid attacks. One added benefit of the treatment is that it can also reverse the earliest effects of tooth decay.
So aside from drinking fluoridated water and using dental products with the same mineral, it is best for parents to consider fluoride treatment for their children's teeth.
Get added protection to your teeth with Fluoride Applications in Midland, TX. Book your appointment with Midland Kid's Dentist! Our dental office is located at 4410 N. Midkiff Rd., Suite D1 Midland, TX 79705.
Comments Off

on Fluoride Applications in Midland, TX: Is It Worth It for Children?
No Comments
No comments yet.
RSS feed for comments on this post.
Sorry, the comment form is closed at this time.