Children's Emergency Dentist — Midland, TX
Keeping Midland Children's Smiles Safe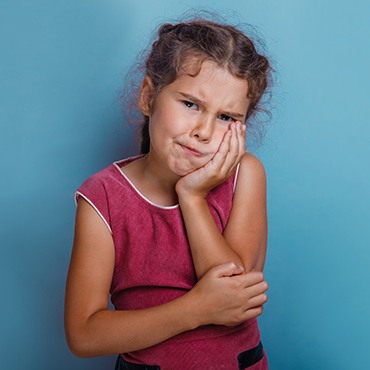 Despite your best efforts to keep your children safe from harm, dental emergencies can happen for a variety of reasons that are often outside of a parent's control – maybe your daughter fell and banged a tooth on the sidewalk while playing with friends, or your son bit down too hard on a popcorn kernel by mistake. Whatever the case, one thing is certain: the team at Midland Kid's Dentist is here for your family during this difficult and often frightening time. Please don't hesitate to reach out to our doctors and staff members right away here in Midland, TX for assistance. We see emergency cases as soon as possible!
Why Choose Midland Kid's Dentist for Emergency Dental Care?
Team of Experienced & Highly-Trained Dental Professionals
Same-Day Emergency Appointments Available
Your Child's Safety & Comfort Are Our Top Priorities
What to Do in a Dental Emergency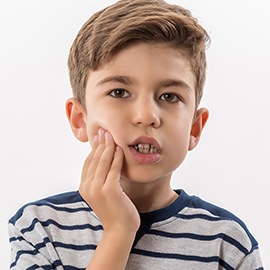 Stay calm! It's important to show your child that you're in control of the situation and that you will take care of them. From there, follow these steps:
Step 1: Call Us Right Away! Be sure to call our dental office right away so we can give you step-by-step instructions on how to handle your situation. We'll also likely schedule a same day appointment for you so we can see your little one right away.
Step 2: Get to Our Office for an Emergency Exam. When you arrive, Dr. Vuppala or Dr. Youngblood will see your little one right away. They'll focus first on addressing any discomfort, and then will work quickly to evaluate the situation.
Step 3: Make a Custom Treatment Plan. Next, they'll fully explain their findings to you and how they recommend treating the situation. Once you've reviewed all your options, including the estimated prices and lengths, you'll work together to create a custom treatment plan.
Step 4: Get the Fast, Gentle Care Your Child Needs. Our experienced team offers a wide variety of treatments right here in-house, so we'll get to work right away to protect your child's teeth and get them back to enjoying a happy, healthy smile.
If your son or daughter is experiencing heavy, sustained bleeding or their jaw is possibly broken, please go straight to an emergency room in your area for immediate help.
The Most Common Dental Emergencies
First of all, we trust you and your child's judgment in these situations. If they're in pain and upset, we want to see them and provide them with relief. Any situation that involves damaged, knocked-out, or very painful teeth should be treated with the utmost urgency! However, if you're still unsure if your situation qualifies as an urgent dental problem, here are some of the most common situations that Dr. Vuppala or Dr. Youngblood would classify as "emergencies":
Understanding the Cost of Dental Emergencies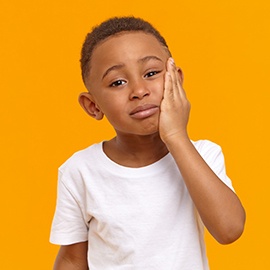 Naturally, emergency dental care comes with a price. It's important to be aware of the costs involved before you agree to any sort of treatment. Sometimes only a minor filling will be required, but in other situations, treatments such as root canal therapy may be necessary. At Midland Kid's Dentist, the cost of emergency dentistry in Midland will be explained to you ahead of time so you know what to expect when the time comes for payment.
Every Dental Emergency is Different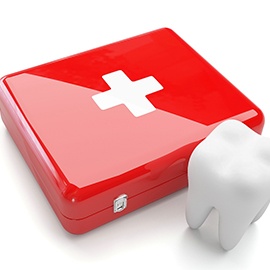 Believe it or not, visiting your emergency dentist in Midland is relatively inexpensive. During your appointment, our team will evaluate the extent of your condition and determine which treatments are necessary to get your smile back on track. Since every case is unique, it's impossible to provide an accurate cost estimate until you come in for an exam.
However, some common solutions for dental emergencies include root canal therapy, extractions, dental crowns, and TMJ treatment. We will explain our findings and the recommended treatment plan, plus provide a cost estimate in advance so there won't be any surprises!
Taking Care of Your Smile Can Save You Money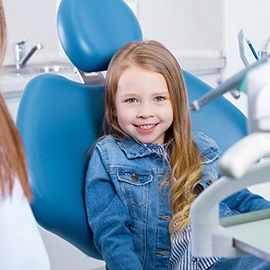 Not every dental emergency is entirely avoidable. Although some happen because of accidental injuries, the majority are the result of unchecked infection or damage. Fortunately, you can keep your smile healthy and save thousands of dollars over the years by investing in routine dental checkups.
On top of that, you can avoid breaking the bank by visiting our team as soon as you notice something wrong with your oral health. Taking care of a problem right away will help you avoid needing more expensive and extensive treatment later on.
Does Dental Insurance Cover Dental Emergencies?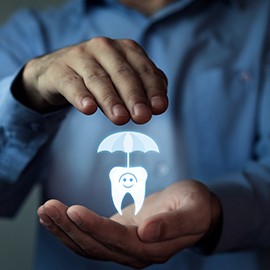 The good news is that most dental insurance plans offer some level of coverage for emergency situations. At least one yearly emergency exam is typically fully covered, while common services associated with hurting teeth like root canal therapy, extractions, and dental crowns are eligible for 50-80 percent of coverage. Of course, every policy is unique which is why you should confirm the details with your insurance provider before committing to anything. Our team is more than happy to help with this process if needed!
Another Option for Making Dental Emergencies Affordable
Don't have dental insurance? You should know that low-interest and affordable payment plans can also be arranged to help you better manage the overall cost of treatment. Contact us to learn more!
How to Prevent Dental Emergencies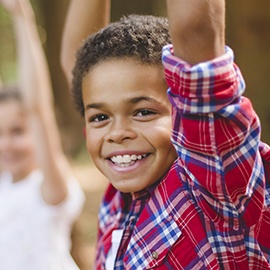 While dental emergencies will never be 100% preventable, there are ways to minimize your family's risk, including the following:
Remember, tools aren't teeth! Don't let your child use their teeth to open packaging; show them how to use scissors safely instead!
Instruct your child not to bite on the ice in their drinks. Also, limit exposure to foods that are overly tough, chewy, or sticky in nature.
Always make sure that your child wears a mouthguard when participating in sporting events.
Schedule checkups and cleanings every six months here at Midland Kid's Dentist! By inspecting smiles on a regular basis, our team can catch small dental problems before they're able to grow into serious ones.
Read on as we go over in more detail about how you can help your child avoid a dental emergency.
Schedule Their Dental Checkup Every 6 Months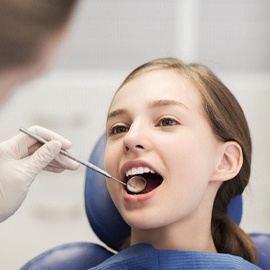 Did you know that experts recommend having your child get a dental checkup and cleaning every six months, even if their teeth aren't bothering them? These routine visits serve two very important purposes: prevention and detection. The goal is always to prevent oral health issues like cavities and gum disease before they develop with thorough professional cleanings. Should any issues begin to creep up unnoticed, bi-annual visits will help us detect them as early as possible and treat the problem before it can turn into a dental emergency.
Encourage Regular Brushing & Flossing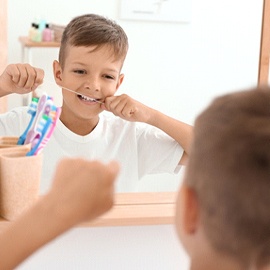 Great oral hygiene is important at every stage in life, but it's especially important during childhood! Not only are baby teeth weaker and more vulnerable to problems like chips, cracks, and cavities, but developing motor skills and sugary foods also pose a threat to their oral health. Every day, make sure your little one flosses between all their teeth and brushes for two minutes every morning and evening.
Stop Bad Chewing Habits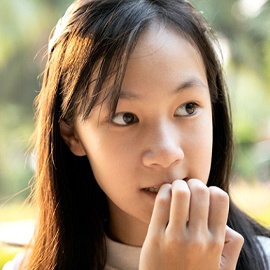 As mentioned above, baby teeth aren't as strong as permanent teeth. If your child chews on their fingernails, pen caps, or other hard objects when they're nervous or bored, their enamel becomes weaker and more prone to chips and cracks! Gnawing on the ice in their drinks can have the same impact as well. Discourage bad chewing habits you see in your child, and don't be afraid to reach out to us for additional help or resources.
Get Them a Custom Athletic Mouthguard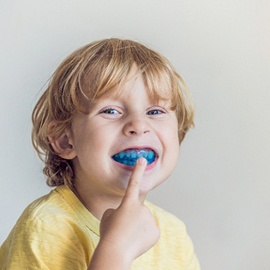 Is your little one athletic? Make sure they're headed to the field or court with all the safety equipment they need by getting them a custom-made athletic mouthguard. We craft mouthguards that are much higher quality than anything you can buy at the store, and ours off a much more personalized fit for enhanced comfort and effectiveness.
Remind Them to Use Tools, Not Teeth to Open Packaging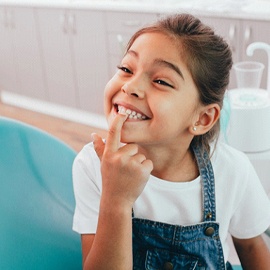 If you have a child, chances are that you already know how impatient they can be. Whether they're overly excited to get into the packaging of a new toy or they don't want to get up to find the right tool to open it, kids are often tempted to use their teeth as tools. However, this could lead to a cracked or chipped tooth in the blink of an eye! Instruct your child not to use their teeth on objects, price tags, or any other objects.
Dental Emergency FAQs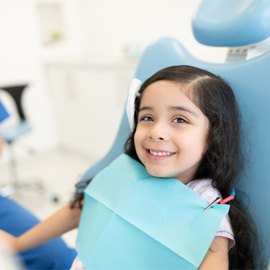 It's up to you to make sure your child gets the care they need when a dental emergency strikes. To make sure you're prepared for the worst-case scenario, we encourage you to ask our team any questions you have about emergency care during your routine visits. To help you get a grasp on the basics, we've answered some of the questions we hear most often below; take a look to see if your concerns have already been addressed here.
Are Knocked-Out Baby Teeth an Emergency?
At first, it might not seem like having a baby tooth knocked out is a major problem since your child was going to lose the tooth in question anyway. However, we do recommend that you schedule an appointment as soon as possible so that we can make sure there wasn't any serious damage to your little one's jaw. We also need to make sure that the baby tooth has not come out too soon; if it has, we'll need to take steps to prevent the remaining teeth from drifting into the gap and preventing the permanent tooth from erupting properly.
My Child Has a Chipped Tooth That Doesn't Hurt. Do They Still Need to See a Dentist?
Chipped teeth often don't cause any pain, but that doesn't mean they can't eventually lead to problems. You should always schedule an appointment with your child's dentist as soon as possible to have a chipped tooth examined. We'll need to check to see if the inner area of the tooth has been exposed; if it has, we may need to place a filling or another restoration to protect the tooth from further harm.
Should I Bring My Child to the Emergency Room First for Dental Emergencies?
Most emergency rooms are unable to effectively handle common dental emergencies like toothaches and knocked-out teeth because they lack the proper training and materials. In these circumstances, you should visit a dentist first. There are three main exceptions:
Fractured and dislocated jawbones.
Serious cuts or lacerations of the face or mouth, especially if they're bleeding uncontrollably.
Abscess or infection that has swollen to the point that your child is having trouble breathing or swallowing.
If your child is experiencing any of these issues, the best course of action is to call an emergency room. Once your little one is out of any immediate danger, we can take care of any remaining dental issues.
Will My Child's Toothache Go Away on Its Own?
If your child says that their tooth hurts and it doesn't seem to be caused by anything being stuck in their smile, the best thing to do is to schedule an appointment right away. It's not usually worth the risk to see if the tooth will get better on its own; usually, the issue will only get worse and may compromise the entire dental structure. Having tooth pain checked as early as possible can help you avoid more extensive, costly issues later down the line.