Dentist for Infants and Toddlers – Midland, TX
Quality Care for the Smallest Smiles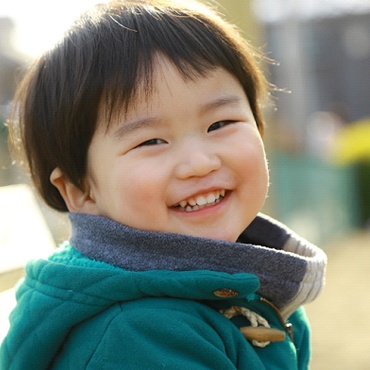 In our practice, we firmly believe that the earlier a child begins to visit their pediatric dentist in Midland, the better. These first appointments establish the foundation for your little one to enjoy a lifetime of healthy smiles. When you bring your infant or toddler to us, you can be sure that we will treat them gently and with a friendly, positive attitude. Our goal is to help them feel at ease with us so they can adopt a positive view of dentistry that lasts for decades.
Dental Checkups and Cleanings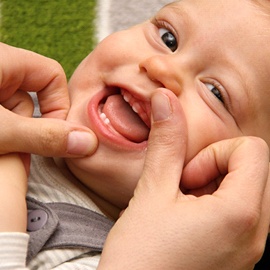 At your child's first dental appointment, which should happen before their first birthday (or shortly after their first tooth erupts), we'll check for any signs of developmental problems. We'll also answer any questions you may have about caring for your baby's new teeth. At subsequent appointments, when your baby becomes a toddler and is old enough to sit still in the treatment chair, we'll help them get into a routine of biannual cleanings and checkups. If we ever notice any cause for concern, we'll design a treatment plan to help your young one's oral health get back on track.
Fluoride Treatments
Fluoride is a naturally occurring mineral that has been proven essential in the development of teeth. Many municipal water supplies contain fluoride, as do many types of toothpaste. However, we might determine that your little one needs an extra boost of this mineral for optimum oral health. We simply apply a fluoride varnish and leave it on the teeth for a few minutes so your child's teeth can absorb some of it.
Tooth-Colored Fillings
Even the smallest teeth may develop cavities. If we notice that your child is suffering from decay, we may recommend that they receive a tooth-colored filling. The filling process is fast and comfortable. Plus, because the fillings are the same color as the dentition around them, you won't have to worry that your little one will suffer from the self-esteem issues that can arise from a metal-filled smile.
Digital X-Rays
We recommend that our young patients regularly get X-rays taken. This quick and painless diagnostic procedure allows us to get a look at aspects of your little one's oral health that we cannot see with the naked eye. For example, it will let us know if the jaw is developing properly and how new teeth are developing. Because we use digital X-rays, the amount of radiation that your child is exposed to is quite minimal.
Non-Nutritive Habits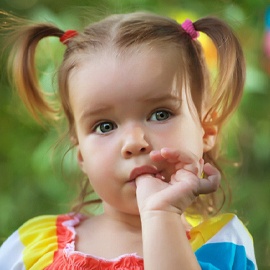 Does your toddler suck their thumb or their fingers? While this habit can seem cute at first, it can negatively affect dental development if it continues for too long. If you are concerned that your child's thumb sucking or finger sucking is endangering their oral health, visit us. We'll provide you with coaching that will help your little one to avoid the potentially disastrous consequences of what they are doing.
Emergency Dentistry
After your child learns to walk, they may be prone to getting into all sorts of situations — some of which might lead to a dental emergency. As your local dentist for toddlers, our team is always ready to leap into action to help you deal with such circumstances, whether it is a broken tooth, a knocked-out tooth, or something else. We'll quickly assess the situation and do everything we can to relieve your child's pain and minimize the damage to their smile.
Extractions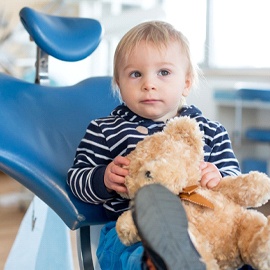 We hope to help children retain their baby teeth until it is time for those teeth to come out on their own. However, decay or other issues may make extractions necessary. If that becomes true in your child's case, we will make sure they are comfortable before we gently remove the tooth.