Dental Checkup and Cleaning – Midland, TX
Give Your Child a Lasting, Healthy Smile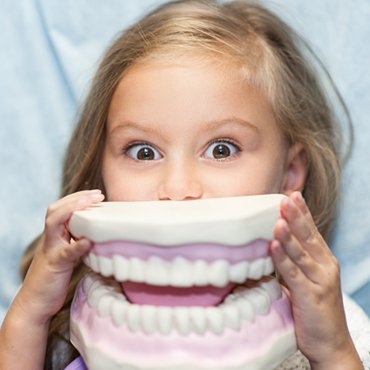 Did you know your child should see their pediatric dentist in Midland for a preventive appointment before their first birthday? Although this may seem a bit young, it creates the foundation your child needs for a lifelong healthy smile. Routine cleanings allow us to prevent certain problems from developing, like tooth decay, to lessen the need for an invasive treatment in the future. We also perform a comprehensive checkup to monitor their oral health to detect concerning issues early for quick intervention. We will be by your child's side through all stages of oral development to help them achieve lasting oral health.
Benefits of Early Dental Care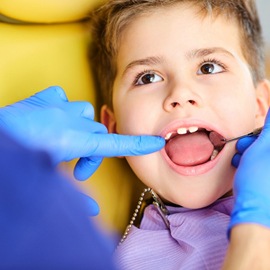 Although the baby teeth are only in place for a few short years, they serve an important purpose. They allow your child to learn how to bite, chew, and speak. They also act as placeholders for their permanent teeth. If a primary tooth is damaged or lost too soon, it can have lasting consequences for their oral health and development.
Routine dental care allows us to monitor their oral health to ensure their smile stays healthy. We develop a trusted relationship with them, so they enjoy our time in our office while also learning the importance of oral health.
Dental Cleaning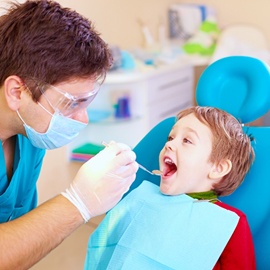 During your baby's first visit, our dental hygienist will try to clean and polish their teeth depending on their age. As your child ages, they carefully brush and floss their teeth. They use special dental instruments to remove any build up on the surfaces of the teeth while gently polishing them. They will also recommend a fluoride varnish, which gives your child an added layer of protection against tooth decay.
Our hygienist will discuss your child's oral hygiene habits and make recommendations for improvement to keep their smile healthy in between their appointments.
Dental Checkup
We take digital x-rays of your child's mouth to have a complete picture of their oral health. The images allow us to see potential issues that may not be visible from the surface, such as complications with their adult teeth.
We also conduct a visual examination to check their teeth, gums, and bite for any problems. If we find a problem that needs treatment, we take the time to carefully explain our recommendation to help you feel confident in the decisions you are making for your child's oral health.
Besides a checkup, we will discuss any concerns you have, such as nail biting or thumb sucking. We also recommend your child has dental sealants applied to their back molars around the age of 6. This acts as a protective barrier against cavity-causing bacteria to keep their enamel strong and healthy.
Pediatric Dentist Near Me
At Midlands Kid's Dentist, we are specially trained and experienced in pediatric dentistry to give your child the compassionate services they need to develop a healthy, beautiful smile. If your child has not been to the dentist in the past 6 months or you have questions about our services, contact our office today. We look forward to treating your child as our own while we nurture their priceless smile.