January 23, 2023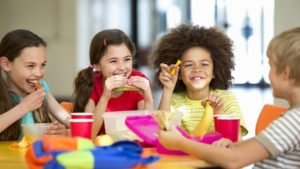 Tooth decay is the most chronic health condition for children, despite being preventable. In fact, cavities are more common than childhood asthma. Brushing and flossing can safeguard your little one's smile, but is there more you could do to protect their teeth from decay? Yes! The foods and drinks your child consumes can harm or help their smile. Don't let sugary or starchy snacks come back to haunt their oral health. Here are 3 healthy alternatives to make their teeth more resistant to decay.
Healthy Snacks for Cavity Prevention
Children love cookies, chips, and crackers, but sugars and starches feed cavity-causing bacteria that can erode their enamel. Instead, choose snacks that promote healthy teeth, like:
1. Low-Fat Dairy Products
Cheese and yogurt contain calcium, which is vital for strong teeth and bones. They also contain phosphorus and vitamin D to support their dental health. Cheese stimulates saliva production to rinse away food particles from their teeth. Choose low-fat dairy products to satisfy their hunger while promoting a healthy mouth and body.
2. Fresh Fruit and Vegetables
Fruit and vegetables are loaded with vitamins and minerals to support your child's development. Although fruit contains natural sugars, they are better for your little one's smile than cookies and candy. Crunchy vegetables and fruit also act as scrub brushes for their teeth. They will help remove cavity-causing residue to keep their mouth clean between brushing and flossing.
3. Tap Water
Fruit juice, soda, and sports drinks can be a recipe for disaster when it comes to your child's dental health. It's best to encourage water whenever possible, especially from the tap. Many public water sources contain added fluoride, which is known as "nature's cavity fighter." Water will promote strong enamel and clean their mouth every time they take a sip. Not to mention, it will keep them hydrated and prevent a dry mouth to reduce oral bacteria growth.
Promote a Cavity-Free Smile
Although cavities are common, your child's smile doesn't have to become a victim of decay by following a few tips:
Encourage good oral hygiene at home by brushing twice daily and flossing every night.
Limit your child's consumption of sugary foods and drinks.
Schedule a cleaning and check every 6 months with their pediatric dentist. They'll check your child's teeth to look for any areas of weakened enamel to prevent a small issue from turning into a big problem.
Ask their dentist about adding the protection of dental sealants to cavity-prone areas, like the molars.
Add a fluoride varnish to their preventive treatment plan to strengthen their enamel.
You can help your child create good oral habits early to support healthy teeth and gums for a lifetime.
About Midland Kids Dentist
Midland Kids Dentist has a team of dedicated pediatric dentists committed to supporting the development of young smiles. We provide personalized attention to each patient and comfortable care for stress-free appointments. If it's time for your child's next cleaning and checkup, contact our office through our website or call (432) 315-0195 for an appointment.
Comments Off

on 3 Healthy Snacks for Cavity-Free Smiles
No Comments
No comments yet.
RSS feed for comments on this post.
Sorry, the comment form is closed at this time.