September 19, 2019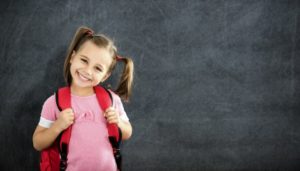 With the new school year starting, it's important to figure out what to pack for your child's lunch. There are a lot of options out there that seem healthy – like granola bars and dried fruit – that can actually be harmful to your kid's teeth. Fortunately, a pediatric dentist in Midland is here to present you with 5 mouth-healthy foods to pack in your little one's lunch this school year.
1. Yogurt
Our mouths are home to lots of bacteria, both helpful and detrimental. Yogurt contains good bacteria to help fight the bad ones that can cause tooth decay and gum disease. Just make sure to pick a low-sugar, or better yet, sugar-free variety to help make your child's pearly whites stronger.
2. Cheese and Milk
Starchy foods like bread and potato chips, as well as sugary snacks, cause bacteria in your child's mouth to break down those foods into cavity-causing acid. When your child eats cheese or drinks milk, it lowers acid levels as well as the risk of tooth decay. Milk and cheese are also high in calcium, phosphate, and vitamin D, which work together to help strengthen tooth enamel and fight against cavities. They also make the bones surrounding the teeth stronger, making your kid more resistant to gum disease later in life.
3. Raw Vegetables
The act of chewing raw veggies naturally scrapes away plaque that has built up between meals or that your child missed while brushing. Advise your kid to chew each bite slowly and completely. Some examples of good "chewing foods" include:
Carrots
Celery
Cucumbers
Green beans
Snap peas
Cauliflower
4. Seeds and Nuts
The oils in nuts and seeds help provide a protective layer over the teeth, shielding them from bacteria that cause cavities. Sunflower seeds in particular are high in folic acid, which helps reduce and prevent gum inflammation.
5. Sugar-Free Gum
According to the American Dental Association, chewing gum for 20 minutes after a meal can actually help prevent tooth decay. This is because the act of chewing stimulates saliva production. Saliva loosens plaque, keeps the gums hydrated, and increases the number of antibodies in the mouth. It also washes away loose bits of food left behind after eating. Pack your child a stick of gum with their lunch and tell them to chew it after they're done. Just be sure it doesn't have any sugar.
Deciding which foods to pack in your little one's lunch is important. Hopefully this guide makes that choice a little easier.
About the Author
Dr. Thomas Youngblood is a member of the American Dental Association and the Texas Dental Association, as well as an affiliate of the American Academy of Pediatric Dentistry. He enjoys nothing more than seeing little smiles shine, and he loves getting the chance to do that at Midland Kid's Dentist in Midland, TX. To learn more about how to keep your child's mouth nice and healthy, visit Dr. Youngblood's website or call his office at (432) 520-5437.
Comments Off

on 5 Mouth-Healthy Foods to Pack in Your Child's Lunch
No Comments
No comments yet.
RSS feed for comments on this post.
Sorry, the comment form is closed at this time.