October 24, 2022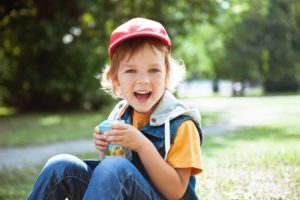 If your child is like most youngsters, they are often found running around during the summer months with a juice box or sports drink in hand. While you might assume these beverages are completely harmless, the truth is they are common contributors to tooth decay. If you're wondering what the cause of your children's cavities might be, a dentist in Midland explains why you'll want to swap out these summertime favorites for healthier options.
Why Are Cavities Common Among Children?
There are many reasons why children are more prone to developing cavities. According to the National Institute of Dental and Craniofacial Research, an estimated 42 percent of children aged 2-11 have cavities that form in their primary teeth.
Apart from their minimal dexterity when it comes to brushing and flossing their teeth, their diets usually consist of unhealthy foods that lack valuable nutrients. Unfortunately, the juice boxes and sports drinks they beg you to buy at the store also contain sugar and are highly acidic.
What does this mean? Although these may look appealing or promise to "quench their thirst," they do anything but that. Instead, they can remain on your child's teeth, resulting in bacteria turning into harmful acids that break down tooth enamel and cause cavities to form.
How a Healthy Diet Can Safeguard Their Smile
If you want to do more to ensure your child is getting the necessary nutrients for greater energy and a healthier lifestyle, avoid purchasing these sugary beverages and instead opt for regular water. While it may not be your child's favorite option, it is the one that will benefit them most. Not only will water help to keep them hydrated, but it will also flush out any toxins as well as bad bacteria and food particles that may try to stick to their teeth and gums.
It is also important that the snacks they consume are healthy as well. Fruits, vegetables, lean proteins, and dairy are all great options as opposed to chips, crackers, cookies, and candy.
You can prevent children's cavities in other ways including:
Scheduling six-month checkups and cleanings with their dentist
Having them wear a customized mouthguard when playing sports or if they are prone to grinding their teeth at night
Oversee their morning and nighttime oral hygiene routine to ensure they are brushing for a full two minutes and flossing at least once a day
Make sure they are using fluoride toothpaste to strengthen their enamel and combat tooth decay
If you want to treat your child to a juice box now and then, make sure they brush their teeth afterward, as this will keep harmful particles off their teeth. When you protect their smiles from cavities by encouraging them to make healthier choices, you are setting the stage for their oral health to shine for many years to come!
About the Practice
At Midland Kid's Dentist, we realize that taking care of the most precious smiles requires special knowledge and a gentle touch. Our dentists understand this balance perfectly, and it's why they've been able to help thousands of children achieve and maintain strong, healthy smiles as they grow. We strive to be your trusted, go-to option for children's dentistry in Midland. Our dentists will be happy to further discuss good and bad beverages for your little one's smile and how to avoid children's cavities during their next checkup and cleaning. Schedule an appointment for them on our website or call (432) 520-5437.
Comments Off

on How to Protect Your Child from Cavity-Causing Drinks
No Comments
No comments yet.
RSS feed for comments on this post.
Sorry, the comment form is closed at this time.