December 3, 2020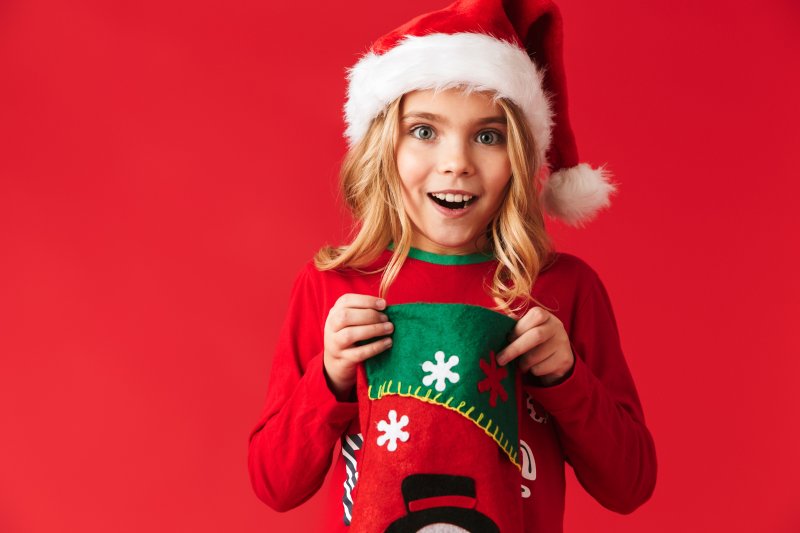 Now that the holidays are just around the corner, you are probably doing all sorts of fun stuff to prepare. Whether you are stringing colorful lights around your home, listening to festive music, or breaking out the old cookbook, you and your family have plenty of things to look forward to. However, the last thing your kids need is a stocking full of sugary sweets that will damage their smiles. A children's dentist in Midland shares some alternative stocking stuffers that will help to improve their oral health.
New Toothbrush
Your kids' teeth are at much higher risk for decay during the holiday season. In fact, it may just be the worst time of year for their smiles! That's why there is no better time than now to get them some new toothbrushes to brush away all of the food debris, plaque, and bacteria that is accumulating on their teeth. You can find a wide variety of children's toothbrushes out there that can help to motivate them to maintain excellent oral hygiene. Choose their favorite color, comic book character, or even ones that play songs for the duration of proper brushing time so that they don't stop too early!
Delicious Dental Products
Strong, minty fresh dental products aren't usually the preference of younger kids. However, it's okay that they haven't learned to love the flavor yet. There are all sorts of other flavors of toothpastes and mouthwashes so they can focus on their oral health too without having to dread the taste of their dental products. Look for strawberry, bubblegum, or orange. The most important thing to look for when choosing a toothpaste is fluoride. Without this natural mineral, the toothpaste isn't doing too much to prevent cavities. Look for the ADA seal of approval. This guarantees that the product is safe and helps to keep your children's teeth healthy. Remember that children under the age of six should not use mouthwash.
Sugar-Free Candy
No child wants to go through the holidays without a sweet or two. The good news is that sugar-free treats are available, and they are much better for your kids' teeth. Pick them out a pack of sugarless gum or lollipops so that they can enjoy a sweet treat without having to deal with tooth decay in the near future.
Healthy Snacks
While a bag of chips, crackers, or pretzels may be easy to throw into a stocking, they aren't great for your child's oral health. They can be just as harmful as sugary candy. Instead, add items like salted nuts or string cheese on Christmas morning. They are delicious and can benefit their smiles.
This holiday season, don't let your children's oral health be forgotten. By choosing some of these stocking stuffers and taking them to see their dentist for kids in Midland, your family will be a step closer to beginning the new year cavity-free!
About the Practice
At Midland Kid's Dentist, you have two children's dentist providing quality dental treatment to kids of all ages. Dr. Weston Jones earned his dental doctorate from Case Western Reserve School of Dentistry. He works alongside Dr. Thomas Youngblood who earned his Doctor of Dental Surgery from the University of Texas Health Science Center at San Antonio Dental School. They are both affiliated with the American Academy of Pediatric Dentistry. For more ways to keep your children's teeth healthy or to schedule an appointment for your child, visit their website or call (432) 315-0195.
Comments Off

on 4 Smile-Friendly Stocking Stuffers
No Comments
No comments yet.
RSS feed for comments on this post.
Sorry, the comment form is closed at this time.