May 22, 2020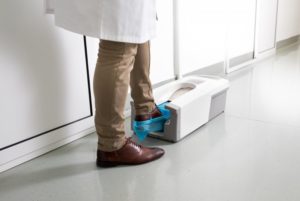 Why are they taking your and your child's temperature when you visit your dentist in Midland? Why aren't you allowed to bring your gloves inside the practice? Why do they have to take all of these precautions when neither you nor your child feels sick in the slightest? Although these extra precautions may seem silly, the truth is that taking these steps can play a big role in preventing the spread of germs, including the ones that cause COVID-19. Keep reading to learn how.
What Extra Safety Measures Does Your Dentist Take?
Some of the additional precautions that your dentist is taking might include:
Pre-appointment screening questions. Before your appointment, your dentist's office may get in contact with you to ask you some questions about your recent health and whether you have any coronavirus-like symptoms.
Temperatures taken upon arrival. Before you enter the office, a member of your dental team will likely take your temperature with a no-contact thermometer.
Providing hand sanitizer. You will likely be asked to clean your hands upon entering the office.
No activities in the waiting room. All magazines and toys will have been removed from the waiting room since these are items that people frequently touch. Thus, they can be rife with germs.
Virtual waiting room. Instead of waiting in the office, you will wait in the car and check-in with your phone.
Minimal visitors. Your dentist might ask that only individuals who are required to be there come to the office. Otherwise, additional visitors should wait in the car.
Why Are These Precautions Necessary?
All of these safety precautions are implemented in order to prevent the spread of COVID-19. As research has demonstrated, many cases of the coronavirus are mild and don't present symptoms for up to two weeks. For this reason, you could be infecting people even though you aren't displaying symptoms, except for a fever. This is why your dental team takes your temperature when you arrive at the office.
Each of the aforementioned practices helps slow the spread of the virus. By sanitizing your hands upon entry, we can kill any germs that may be present on your hands, which may infect other patients or staff, for example. Even though dental offices are some of the cleanest places you could be, the team has to take every precaution to prevent this virus from wreaking havoc.
If you have questions about how your dentist keeps their office clean and safe, then just give them a call.
About the Author
Dr. Thomas Youngblood is a pediatric dentist in Midland, TX who earned his Doctor of Dental Surgery degree in 2002 from the University of Texas Health Science Center at San Antonio. He holds memberships in many professional organizations, including the American Dental Association, the Texas Dental Association, and the American Academy of Pediatric Dentistry. His practice follows all the safety protocols listed above and more. To learn more about how he's keeping his office safe for you and your child, contact Dr. Youngblood at (432)-520-5437.
Comments Off

on Why Your Dentist Takes Extra Precautions at Your Appointment
No Comments
No comments yet.
RSS feed for comments on this post.
Sorry, the comment form is closed at this time.