June 17, 2020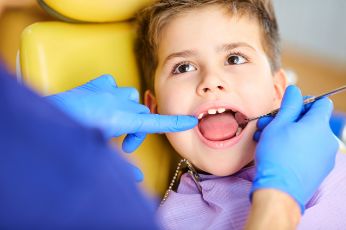 Did you know that an estimated 20% of children aged 5 to 11 have at least one untreated cavity? Sadly, kids with poor dental health are more likely to miss school and receive lower grades and may struggle with self-esteem or have difficulty speaking clearly. The good news is that helping kids have healthy teeth is easier than you think. And since June is Oral Health Month, it's the perfect time to learn more! Keep reading for 5 tips your pediatric dentist in Midland wants you to know to keep your child's smile healthy from the start.
1. Get a Custom Mouthguard If Your Child Plays Sports
A custom-made mouthguard is crucial for preventing injuries during sports or recreational activities like mountain biking. In fact, these appliances not only minimize the chances of knocked-out teeth and oral cuts but have also been found to lessen the severity of a concussion.
2. Stock Up on Supplies
If your kids haven't gotten a new toothbrush in a while, it's a great time to stock up. Pediatric dentists recommend that you replace them every 3-4 months so they're as effective as possible at cleaning the teeth. And while you're at it, you may as well make sure you have plenty of kids' flossers, toothpaste, and anti-cavity mouthwash as well (only for kids over age 6).
3. Practice Good Oral Hygiene Habits
It's not uncommon to struggle to get kids to brush and floss, but finding ways to make it fun and interactive can help a lot. Whether it's using one of the many apps available or simply marking each day of brushing and flossing on the calendar with a sticker, turning it into a game can be just the motivation your child needs.
4. Limit Sugar
Frequently giving kids sugary foods and beverages dramatically increases their risk of getting cavities. While you don't have to take it away completely, sodas, juice, candy, cookies, and dried fruit should be a treat rather than something they have every day. Also, make milk or water the main beverage of choice, and when you do give them something sweet, try to include it with a meal rather than as a snack.
5. Schedule a Checkup and Cleaning
Finally, don't forget to schedule regular checkups and cleanings with a pediatric dentist in Midland. With these visits, your child will not only get preventive treatments like fluoride but you can also make sure any problems such as cavities are found when they're small and easy to fix.
With these 5 simple tips for Oral Health Month, you'll be helping your child start the journey to a lifetime of healthy smiles.
About the Author
Dr. Weston Jones is a board-certified pediatric dentist with over a decade of experience and also a father of three. In addition to providing outstanding dental care for kids, he always gives parents easy, accessible tips they can use at home to minimize dental problems as much as possible. If your child needs dental care or you have any questions, he can be contacted via his website.
Comments Off

on June Is Oral Health Month! Get 5 Kid-Friendly Tips From a Pediatric Dentist
No Comments
No comments yet.
RSS feed for comments on this post.
Sorry, the comment form is closed at this time.