June 24, 2020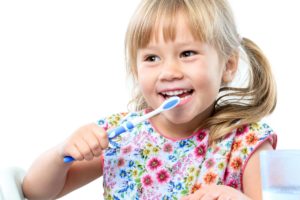 This summer is unlike any that have come before it. Kids have been stuck at home for months, most beaches and pools are closed, and you remain unsure whether your child will physically return to school in the fall. One thing that you can be sure of, though, is that summer is a time when many children neglect their oral health. To prevent your little one from damaging their smile by getting cavities, here are three tips from a kids' dentist in Midland to keep your child's teeth healthy.
1. Stick to a Routine
Since your son or daughter is no longer bound by the quotidian routine of school (or online classwork), it can be tempting to let them play in the backyard all day and forget to take care of their teeth. However, it's important that you establish a routine of brushing and flossing every morning and every night before bed. Do it as a family so your little one looks forward to participating in a fun activity that everyone does together. Let your child play in the yard as much as they want, provided they take care of their teeth first.
2. Limit Sugary Treats
The lazy days of summer are perfect for grazing on snacks like chips for hours at a time. Doing so, however, can be detrimental to your and your child's oral health. Constantly snacking exposes their teeth to an onslaught of sugar, attracting bacteria that cause cavities. Substitute sugary snacks with mouth-healthy alternatives like fruits and nuts. Additionally, have them drink water (especially fluoridated tap water) instead of sugary drinks like soda and juice.
3. Schedule Your Back-to-School Checkup Early
Some schools may require a back-to-school dental appointment before a certain date. As the end of summer approaches, all the other parents will be scrambling to fit their child in before then. To save yourself this stress, go ahead and call your dentist to schedule your child's appointment as soon as possible. At this visit, the dentist can evaluate your child's mouth for cavities and take care of any oral health issues well before classes start. The hygienist can also clean your child's teeth to make sure they shine bright just in time for yearbook pictures.
Just because school is out for the summer doesn't mean your child can slack on maintaining their oral health. Follow the tips listed in this post, and your little one's smile should stay healthy and bright!
About the Author
Dr. Weston Jones is a Board-Certified pediatric dentist in Midland, TX who received his Doctor of Dental Surgery degree from Case Western Reserve School of Dentistry in 2006. Following graduation, he completed a pediatric residency at the Children's Hospital of Michigan in Detroit, where he served as chief resident. He enjoys nothing more than helping kids achieve and maintain healthy smiles. To learn more about how Dr. Jones can keep your child's grin healthy this summer, visit his website or call (432)-520-5437.
Comments Off

on 3 Tips to Keep Your Child's Smile Healthy This Summer
No Comments
No comments yet.
RSS feed for comments on this post.
Sorry, the comment form is closed at this time.