December 1, 2018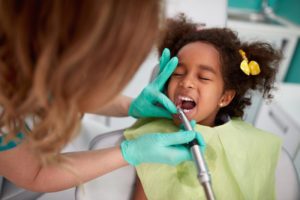 It is easy for adults to opt for teeth whitening treatment if they are not happy with the shades of their pearly whites. But for kids, it might be difficult to determine whether or not they are qualified to undergo the procedure due to the nature of the ingredients that are included in the whitening products. According to the American Academy of Pediatric Dentistry, teeth bleaching can also be applied to teens and children as long as the practitioner follows the fundamental guidelines that are laid out for the use of in-office bleaching treatments.
When it comes to giving your kids a bright smile, you can always rely on us at Midland Kid's Dentist. We provide Teeth Whitening for our young patients with ages 14 and above using the safest method possible. The brand that we deliver is KoR Whitening as we believe in its potential to give our patients with 16 shades lighter teeth! Nevertheless, before taking your kids at our dental clinic for the treatment, here are the considerations to
think about first:
Like adults, children may also experience sensitivity, tissue irritation, and even discomfort during or after the procedure. But you can guarantee that our dentist at Midland Kid's Dentist will minimize any hassles associated with the treatment.

Stained teeth are one of the major reasons why many people would want to invest in teeth whitening treatments to correct the color of their pearly whites. Although it is given for adults to accumulate discolorations due to the consumption of colorful beverages like coffee, kids tend to suffer from teeth stainings as well due to the intake of fruit juices and soda. If they are not good candidates for professional
teeth whitening yet, encourage them to practice proper oral hygiene as this can help resolve the issue.

Using over-the-counter kits to whiten children's teeth is discouraged. Whitening strips, for instance, might not fit well to kids and teens' mouths. Their gums and cheeks have the tendency to come in contact with the strips, which in turn can cause irritations and unwanted sensations to these tissues.

The ideal way for kids and teens to prevent stains or discolorations is to brush twice daily, floss at least once, and rinse the mouth with alcohol-free mouthwash. In addition, parents must see to it that their children will visit the dentist every six months for check-ups, cleanings, and other preventive care treatments necessary to keep their teeth and smiles healthy.
Midland Kid's Dentist is always ready to take action involving you and your child's oral health. If you want your kids to embrace a beautiful, white smile, take them with us at Midland Kid's Dentist for Teeth Whitening in Midland, TX. We are located at 4410 N. Midkiff Rd., Suite D1, Midland, TX
79705.
Comments Off

on Facts About Teeth Whitening for Kids and Teens in Midland, TX
No Comments
No comments yet.
RSS feed for comments on this post.
Sorry, the comment form is closed at this time.