November 1, 2018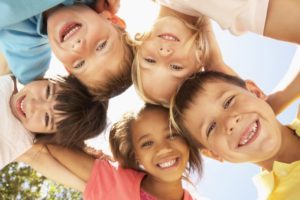 Cavities, also called dental caries are the number one teeth enemy. It is caused by plaque, a sticky substance that builds up on enamel that can erode and damage the teeth over time. Children's teeth are more prone to damage and decay, but there's this one preventive treatment that continues to gain popularity – Dental Sealants!
Dental Sealants are thin, plastic coatings that are applied to the teeth's chewing surfaces. These coating act as a protective barrier against bacteria, leftover particles, and decay. Consistent brushing and flossing of the teeth are good but are actually not enough. Sealants give the teeth, especially the premolars and molars extra protection for they have deep pits and fissures. They are also located in the hard-to-reach areas of the mouth, perfect to home bacterias. With that, Midland Kid's Dentist provides Dental Sealants to smoothen out teeth surfaces which are most susceptible to decay.
Debunked Dental Sealants Myths
Myth 1: Getting sealants is painful.
Many people hadn't considered having dental sealants or postponed their appointments for this reason. They often thought that sealants hurt, when in reality not. Applying dental sealants to the teeth is a painless, safe, and effective procedure.
Myth 2: Sealants are not for everyone.
Most dentists recommend that sealants be applied to children's teeth for they are more susceptible to decay. While it is true, adults can also have dental sealants! Sealants are applicable and beneficial to both adult and children alike.
Myth 3: Dental Sealants are not durable.
The application of sealants does not take long, but the results are! Dental Sealants are durable and can last until 10-15 years when taken cared well.
Tips and Tricks for Dental Sealants
Once the dental sealants are placed on teeth surfaces, the teeth become 80% less prone to decay. However, it does not mean that it needs less maintenance and care. Dental sealants must be treated just like the natural teeth. It means that patients must do the following:
Brush the teeth two times daily.
Use ADA-recommended fluoridated toothpaste.
Floss the teeth every day.
Avoid sugary and starchy snacks.
Visit the dentist regularly.
Get added protection to your teeth with Dental Sealants in Midland, TX. Book your appointment with Midland Kid's Dentist! Our dental office is located at 4410 N. Midkiff Rd., Suite D1, Midland, TX 79705.
Comments Off

on Dental Sealants in Midland, TX: Busted Myths and Tips
No Comments
No comments yet.
RSS feed for comments on this post.
Sorry, the comment form is closed at this time.