June 17, 2021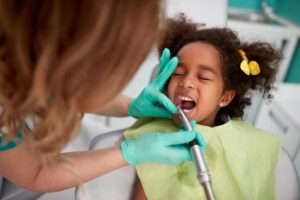 It's no secret: kids get cavities. In fact, the CDC reports that tooth decay is the number one most common chronic childhood disease! Unfortunately, there are a variety of factors that put children at an increased risk of cavities, like thinner enamel on baby teeth, bad brushing habits, and unhealthy diets. But there's a safe and simple way to protect your little one's precious smile from decay thanks to fluoride treatments! Read on to learn more about this fast and reliable service and why they come so highly recommended by children's dentists!
How Fluoride Fights Cavities
The protective white outer layer of teeth is called enamel. While it's the strongest material in the human body, it has one major weakness: it doesn't grow back naturally. Once it's worn down by acids from foods and drinks, it can't repair itself. Weakened enamel is easily eaten away by cavity-causing bacteria, which is what leads to tooth decay.
Thankfully, there is a way to restrengthen enamel! Fluoride is a naturally occurring mineral that can be found in many bodies of water as well as your toothpaste and tap water. When introduced into the mouth, it can seep into the enamel and bond with existing natural tooth structure, making it stronger and resistant to decay.
Is Fluoride Safe for Children?
While overexposure to fluoride in childhood can cause white spots on teeth later in life, fluoride is safe for children and should be in their daily diets and dental routines. At first, you should brush your child's teeth with a smear of fluoridated toothpaste about the size of a grain of rice. As they get older, you can graduate to using a drop about the size of a pea and supplement it with fluoridated mouthwash. Your children's dentist can help guide you through your child's oral development to ensure they're getting just the right amount of fluoride in their life.
Fluoride Treatments for Healthier Smiles
At the end of your child's dental appointment, your dentist may recommend a fluoride treatment. This quick and easy service can be completed in mere moments after your child's dental cleaning and provide long-lasting protection from cavities. Your children's dentist will simply paint on a coating of fluoride varnish onto your little one's teeth, and that's it! You'll usually need to keep your child from eating or drinking for the next 30 minutes while the fluoride soaks into the enamel, but afterwards, their teeth will be fortified against cavities. Fluoride treatments are incredibly popular because they're fast, painless, inexpensive, and extremely effective at preventing tooth decay, which is why they're so highly recommended!
Just because cavities are very common in children doesn't mean that they're unavoidable altogether! At your child's next dental appointment, talk to your dentist about getting a fluoride treatment to keep their smile safe and healthy.
About the Practice
Midland Kid's Dentist is dedicated to providing personalized dental care for growing smiles in a safe, comfortable environment. Dr. Youngblood has been providing excellent oral healthcare for over 19 years and Dr. Jones is a Board-Certified pediatric dentist with advanced training in caring for children's smiles. As fathers themselves, they know just how important your child's precious smile is and will go above and beyond to ensure they get the attention and care they deserve. To learn more about fluoride treatments, they can be contacted online or at (432) 520-5437.
Comments Off

on Fluoride: The Safe & Simple Way to Prevent Cavities in Kids
No Comments
No comments yet.
RSS feed for comments on this post.
Sorry, the comment form is closed at this time.