August 20, 2019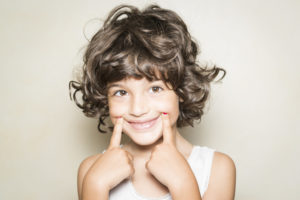 Potty-training young children – and finally being able to stop buying diapers! – is often a big milestone for many families. Similarly, teaching a child how to clean their own teeth is an important part of them growing up. Tooth decay is the most common chronic disease for children ages 6 to 19, so educating kids on how to properly brush and floss is critical. You can set your children up for a lifetime of excellent oral health by following the guidance below from a pediatric dentist in Midland.
Easy Brushing Tips for Kids
Between ages 6 to 8, children can usually begin to brush their teeth on their own. Since you have been helping them maintain a healthy smile up to this point, they may need guidance on how to properly clean their teeth.
You can teach your son or daughter how to brush by sharing these tips:
Tip 1: First, your child should hold their soft-bristled toothbrush at a 45-degree angle when brushing.
Tip 2: Teach your child to gently brush using short back-and-forth strokes along the teeth and gums.
Tip 3: Emphasize to your child that they should brush every side of their teeth – the inner, outer and chewing surfaces.
Tip 4: Last but not least, kids should also brush their tongues to remove bacteria on the surface.
How to Help Your Child Floss
Flossing may be a bit trickier for your child to learn and master. Here are some tips on how to clean in between your child's teeth until they are ready to do it on their own:
Step 1: Hold a short length of floss between your thumb and index finger. You can wrap the floss around your fingers at each end for better control.
Step 2: Using gentle pressure, insert the floss between your child's teeth. Adjust the floss into a 'C' shape curve around a tooth and slide it up and down. Be sure to slide the floss under the gumline, where tiny food particles can become trapped.
Step 3: Repeat steps 1 and 2 for each individual tooth. Use a new section of floss for each tooth to avoid reinserting the bits of food and plaque you have already removed.
Why Regular Dental Checkups are Important for Kids
In addition to teaching good oral hygiene habits at home, regularly visiting a pediatric dentist in Midland is critical to keeping your children smiling and cavity-free. Here are a few reasons why:
Detect Issues Early On – Regular dental checkups ensure tooth decay and other issues are identified and treated early on, before they can worsen.
Professional Teeth Cleaning – A professional cleaning by a dentist or dental hygienist is the only way to remove hardened tartar that can accumulate in the hard-to-reach places in your child's mouth.
Oral Health Education – A dental checkup is also a great opportunity for a dentist to share oral care tips with your kids and reinforce the brushing lessons you have been teaching them at home.
A healthy smile begins at an early age! Talk to a pediatric dentist in Midland today for more preventive oral care tips for your children – and yourself!
About the Practice
At Midland Kid's Dentist, parents can rest easy knowing their young children are in good hands with the experienced and friendly Dr. Weston Jones and Dr. Thomas Youngblood. From filling cavities to preventive dental checkups, the team at Midland Kid's Dentist delivers quality oral care to children of all ages. For more oral care tips for kids, visit the Midland Kid's Dentist website or call (432) 520-5437.
Comments Off

on Handy Guide to Teaching Children to Brush Their Teeth
No Comments
No comments yet.
RSS feed for comments on this post.
Sorry, the comment form is closed at this time.