July 20, 2019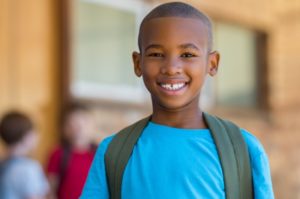 Many parents are concerned about how effective their child's brushing and flossing technique is. You've noticed that your child's permanent teeth are growing in yellow and you feel like that's not a good sign. Even though you make sure your son or daughter keeps up with their oral hygiene routine, you're still worried that it could be caused by plaque buildup or oral health problems. Read on to learn the truth about why your child's teeth are growing in stained from a pediatric dentist in Midland.
What's Causing Your Child's Permanent Teeth to Grow In Stained?
If your child's permanent teeth are growing in with a yellow tint, you'll be relieved to know that most of the time it doesn't have to do with anything on the surface. Most adult teeth appear more yellow than baby teeth because of the way they form. For example, with permanent teeth, there is yellow dentin inside, while baby teeth don't have as much of this. Also, the ratio of enamel to dentin is higher on baby teeth, making the yellow dentin less visible.
Is There Anything You Can Do to Improve the Color?
If you don't notice a yellow film covering your child's permanent teeth, it's best to just leave their mouth be until they get older. It's not recommended to use whitening toothpaste or teeth whitening treatment on children under 15 because there aren't any studies that show whether these products impact growing teeth. If you do have questions, be sure to ask your pediatric dentist if they can offer any services or advice that could help combat the discoloration. Other than that, although your child's mouth may not look healthy, it most likely is. Yellow adult teeth are perfectly normal and even expected. The best way to tell if this is the case for your child is to take them to their routine checkup and cleaning with your pediatric dentist.
How Can A Nutritious Diet Help?
One natural way that you can combat discolored teeth at home is to make sure that your child is on a nutritious diet. This can also be great for their physical health! You can do this by substituting healthy snacks like celery and carrot sticks for snacks that are high in carbohydrates. Additionally, fruit juices and dark sodas are a huge factor in stained teeth, so be sure to replace these beverages with milk or water instead.
Try to avoid sugary foods that stick to your child's teeth and include foods that are high in calcium to help fortify your child's tooth enamel. Not only will this protect their teeth, but it'll also help ward off dental problems that can cause discoloration. If you have any questions about what else you can do for your child's oral health, don't hesitate to ask your pediatric dentist for recommendations during their next routine checkup and cleaning.
About the Author
Dr. Weston Jones has been giving his small patients the knowledge and care they need to maintain healthy smiles into adulthood since 2009. He completed a Pediatric Residency at Children's Hospital of Michigan and served as chief resident. He's also a member of the American Academy of Pediatric Dentistry and is a Board-Certified Pediatric Dentist. For questions or to schedule a checkup and cleaning, visit Midland Kid's Dentist's website or contact 432-520-5437.
Comments Off

on Are Your Child's Permanent Teeth Growing in Yellow? A Pediatric Dentist in Midland Lets You Know Why
No Comments
No comments yet.
RSS feed for comments on this post.
Sorry, the comment form is closed at this time.