November 21, 2019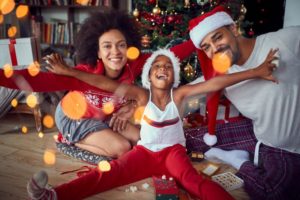 The holiday season is well underway, which means that you and your family will have plenty of opportunities to eat your favorite seasonal sweets and savory treats. On top of that, your child will have ample time off school, which means their schedule and habits will change drastically. This holiday combination of changes can result in an unexpected dental emergency which can land your little one an appointment with their pediatric dentist in Midland. Here are four ways your little one could suffer from a dental dilemma during the holidays.
Sugary Foods and Drinks
During the holidays, the temptation of sweet treats and drinks is nearly impossible to resist, especially for your child who wouldn't normally have access to so many delicious desserts. Drinks like eggnog and apple cider can get your family in the mood for the season, but they are also packed full of sugar that can make your child's mouth the perfect environment for harmful oral bacteria to thrive in.
A diet that's high in sugars and carbohydrates is linked to an increased risk of cavities and gum disease. It's not the actual sugar or carbs that harm your teeth, but that the bacteria in your mouth feeds on them and transforms them into inflammation-causing toxins and acids that harm your tooth enamel and gums. To avoid developing these issues, be sure to substitute nutritious snacks and drinks for sweets whenever possible so that your child can enjoy the holidays while remaining cavity-free.
Sticky, Hard, and Chewy Treats
The texture of food is just as important to consider as the sugar content during the holidays. Letting your child gnaw and munch on treats that are sticky, chewy, and hard can increase their risk of damaging or breaking a tooth. In addition to the threat of dental damage, these foods can also put your child at risk of developing cavities and infections. Foods that stick to their teeth expose them to harmful oral substances for longer periods of time because their saliva flow isn't strong enough to remove the sugar from their pearly whites naturally. This can increase their chances of dental decay and painful toothaches.
A Change in Their Dental Hygiene Routine
With the upcoming holidays, your child will have weeks off school. With a less stable and regimented schedule, they may be tempted to skip out on their morning and nightly oral hygiene routine to squeeze in some extra video game time. This can open the door for common issues like cavities and gum disease to develop, causing toothaches and discomfort that could have you calling your emergency kids' dentist. The best way to keep the changes in their daily life from impacting their oral health is to set reminders on their phone to brush and floss and make sure they're diligent about maintaining their hygiene.
Using Their Teeth as Tools
With all the excitement around the holidays, it can be tempting for your little one to try to unpackage their gifts and presents using their teeth instead of a pair of scissors. This can damage any cavity fillings they may have and increase their risk of bacteria transfer to their mouth, causing infections and oral pain.
If you find yourself in a dental dilemma over the holidays and are wondering whether your child needs to visit their emergency dentist or not, don't hesitate to contact them. They'll be able to walk you through any necessary first aid procedures and squeeze you into their schedule at your earliest convenience.
About the Author
Dr. Weston Jones is a board-certified pediatric dentist and a member of the American Academy of Pediatric Dentistry. He completed a pediatric residency in 2009, where he developed specialized skills and knowledge for working with children. He has also worked as a clinical associate professor in the Department of Pediatric Dentistry at the University of Detroit Mercy. For questions about a dental emergency or to schedule an urgent appointment, visit Midland Kid's Dentist's website or call 432-520-5437.
Comments Off

on 4 Ways the Holiday Season Can Land Your Child an Appointment With Their Emergency Dentist
No Comments
No comments yet.
RSS feed for comments on this post.
Sorry, the comment form is closed at this time.