November 3, 2019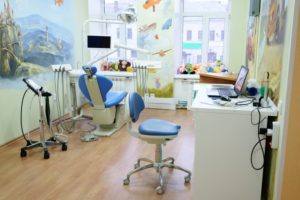 Has your child's first tooth erupted? Are you wondering whether it's a better choice to take them to a pediatric dentist in Midland instead of a general dentist? As a parent, your main concern is that your little one is getting the best quality of dental care, and that they're learning all the techniques they need to keep their smiles healthy as adults. Read on for four reasons taking them to a specially trained pediatric dentist can give you peace of mind that they're getting the best care possible. ß
Specially Equipped to Care for Small Mouths
Your child's mouth is smaller than yours, which makes sense why child-friendly equipment would be more comfortable for them than regular-sized tools. Pediatric dentists are prepared to cater to developing smiles, which is why they use gadgets that are specifically designed for children's mouths. Plus, your pediatric dentist will go out of their way to introduce them to each of the tools that will be used during their routine checkups and cleanings, that way, they can feel comfortable with having them placed in their mouths. Without the proper explanation and time being taken to do this, it could cause your child to become scared or anxious about receiving checkups and cleanings in the future.
Exciting Environment to Get Them Engaged in Their Oral Hygiene
Children's dental offices are often decorated in bright and exciting ways and packed full of entertaining toys and games for them to play with while they're waiting. Not only does this take some weight off of your shoulders to have to keep your child sitting down in their chair and waiting patiently (which is unrealistic), but it can also encourage them to look forward to their appointments. A positive first experience with their dentist can keep them from developing dental anxiety or fears later on in life and encourage them to become proactive about their oral health.
A Focus on Preventive Dental Care
Pediatric dentists understand the importance of protecting small, fragile, developing smiles, which is why they place extra attention on providing preventive treatments like dental sealants. This emphasis on care allows them to tackle small problems before they have a chance to become more severe, and protect your little one's growing smile from cavities, infections, and gum disease. Pediatric dentists are also experienced in teaching children about the importance and techniques behind brushing and flossing every day. That way, your child can develop healthy habits so they can enjoy their natural smile for longer.
Advanced Training and Experience in Treating Developing Smiles
Unlike general dentists, pediatric dentists have undergone specific advanced training and education to be able to treat children's growing teeth. Developing mouths face unique problems, such as cavities, orthodontic issues, and bite misalignment issues. When these aren't diagnosed and treated early, it can result in issues like speech impediments or digestion problems. Pediatric dentists understand these issues and can keep an eye out for early signs of them. They're also experienced with easing children's anxieties and fears of the unknown dental office, which can help your little one feel more at ease and comfortable during their semi-annual appointments.
With special advanced training, pediatric dentists are the perfect fit for treating and teaching children about how to properly care for their mouths. In a custom-tailored fun environment made especially for little ones, parents can also feel less stressed out during their visit, knowing that children's dental practices have experience educating, entertaining, and making hesitant little ones comfortable.
About the Author
Dr. Weston Jones has always been passionate about treating children and encouraging them to get excited about taking care of their pearly whites. He completed his pediatric residency at Children's Hospital of Michigan in 2009 and served as a chief resident. As a Board-Certified Pediatric Dentist and member of the American Academy of Pediatric Dentistry, he strives to stay up-to-date with the latest advancements in his field. That way, he can provide each of his small patients with the highest quality of care. For questions or to schedule a routine checkup and cleaning for your child or teen, visit Midland Kid's Dentist's website or call 432-520-5437.
Comments Off

on 4 Reasons to Take Your Child to a Pediatric Dentist
No Comments
No comments yet.
RSS feed for comments on this post.
Sorry, the comment form is closed at this time.