August 22, 2022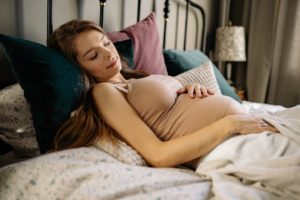 The instant you learn you're expecting, you make changes to your diet and lifestyle right away because a mother's health is vital to an unborn child's development. You've probably heard that you need to eat for two, but should you be brushing for two? Yes! Your dental health is equally important as your general wellness. If you skip brushing before bed or don't floss every day, you could be placing your baby at risk of lasting complications. A solid pregnancy oral care routine will ensure there's one less worry while waiting for your little bundle of joy to arrive. 
Pregnancy and Oral Health Risks
Your body undergoes several changes as you grow a tiny human inside of your belly. You might expect some stretch marks, but you probably don't anticipate cavities or gum disease. Unfortunately, pregnancy can take a toll on your smile in many ways, which can affect your baby. Various factors contribute to declining dental health, including:
Morning Sickness: Your teeth are bathed in stomach acids, which can weaken your enamel and increase your risk of tooth decay. Maintaining a balanced diet can be challenging if you have a toothache.
Fatigue: Pregnancy can take exhaustion to a new level. As a result, it's easy to climb into bed without brushing or flossing. This can cause bad oral bacteria to grow quickly, leading to cavities and gum disease from plaque buildup.
Hormonal Changes: Expecting mothers are prone to gum disease from hormonal changes. Red, swollen, or bleeding gums aren't the only concern. Gum disease has been linked to pre-term delivery and low birth weights.
Folic Acid: Pregnant women should take a prenatal vitamin that contains folic acid. However, avoid those that are chewy or sticky because they can cling to your teeth. Eating them daily can lead to cavities, especially in the molars.
Maintaining a Healthy Smile
Changes to your dental health can also affect your baby's smile. Brushing your teeth at least twice daily can prevent dental infections from being passed onto your newborn baby. Although you'd rather focus on getting the nursery together, take the time to commit to your dental health by following a few tips:
Brush your teeth at least twice daily for 2 minutes using a soft-bristled toothbrush and fluoride toothpaste.
Floss at least once per day.
Eat a healthy diet that's limited in sugar.
Don't smoke or drink alcohol.
Rinse your mouth with water after bouts of morning sickness.
Visit your dentist every 6 months.
Contrary to rumors, it's safe to visit a dentist if you are pregnant. Your dentist will take extra precautions to provide safe care for you and your baby.
About Dr. Youngblood
Dr. Youngblood provides family-oriented dental care to create generations of healthy smiles. He focuses on prevention to stop common oral health issues from occurring, like tooth decay and gum disease. Dr. Youngblood customizes treatment plans to cater to his patient's needs. If you need a cleaning and checkup, contact our office today.
Comments Off

on Pregnancy Oral Care Can Affect Your Baby
No Comments
No comments yet.
RSS feed for comments on this post.
Sorry, the comment form is closed at this time.