August 10, 2022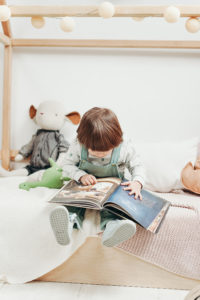 Every tooth in your child's smile is vital for their nutrition and development. Their teeth allow them to learn how to eat and speak while acting as placeholders for their permanent set. Brushing and flossing aren't enough to support their oral health and development. The American Dental Association recommends children over the age of 2 have cleanings and checkups every six months; however, your children's dentist in Midland will suggest bringing them in before their first birthday. Early dental care is proven to support lifelong good oral health habits, but the dentist's office can be a pretty scary place. Here are 5 books to promote anxiety-free appointments. 
1. Just Going to the Dentist
By Mercer Mayer
Little Critter has been a favorite children's book character for decades. The series covers a variety of topics for young children, like managing anger, the arrival of a sibling, and dental care. Just Going to the Dentist discusses Little Critter's experience at the dentist, including teeth cleaning, X-rays, and fillings. Your little one will know exactly what to expect, so they don't have any anxiety about the unknown.
2. The Tooth Book: A Guide to Healthy Teeth and Gums
By Edward Miller
The beautifully illustrated picture book provides in-depth information about oral health in a child-friendly manner. Besides covering the basics of cleanings and checkups, Edward Miller also features fun facts, history, and a few anecdotes to make dental care an interesting topic.
3. Dentist Trip with Peppa Pig
By Scholastic
Peppa Pig is a favorite in many homes across the U.S. Children can't resist the cute, lovable character, especially when she helps her little brother visit the dentist for the first time. Besides discussing what's involved with a routine appointment, it also addresses nerves. Peppa gives her brother words of encouragement to calm him down.
4. The Crocodile and the Dentist
By Taro Gomi
Taro Gomi's book shows children that even intimidating animals can be scared of the dentist. Like a crocodile. The anxious crocodile learned to overcome his fear. Not only does the book cover the crocodile's experience, but your child will also hear the dentist's view. Your child will understand that dentists are just regular people and aren't anyone to fear.
5. Doctor De Soto
By William Steig
A small mouse provides dental care for a variety of animals without any pain. Doctor De Soto even helps a fox with a toothache. The generous and lovable character allows your child to look forward to a pain-free and comfortable appointment.
Your dentist in Midland will get to know your child to build a trusted relationship, so they are excited about their dental appointment.
About Dr. Youngblood
Dr. Youngblood is Midland's trusted pediatric dentist. He strives to ensure every child enjoys their time in the dental chair to support healthy smiles. Dr. Youngblood is a member of multiple professional organizations, including the American Academy of Pediatric Dentistry. If it's time for your little one's first dental appointment, contact our office today to schedule an appointment.
Comments Off

on 5 Children's Books to Conquer Dental Anxieties
No Comments
No comments yet.
RSS feed for comments on this post.
Sorry, the comment form is closed at this time.