August 24, 2023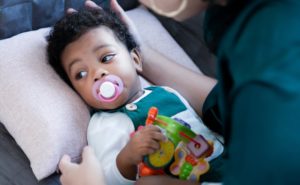 Between 60 and 85 percent of babies use pacifiers. In fact, it's a completely healthy and natural habit that babies develop to help self-soothe and feel at-ease. If your little one is a thumb or pacifier-sucker, there's no need to ween them off as infants, but once they get into toddlerhood, it's a good idea to consider taking those initial steps to stopping. This is primarily because once they get bigger and their teeth begin erupting, non-nutritive habits can impact their dental development. Read on to learn about both the pros and cons of pacifier usage.  
The Pros of Pacifier Usage
Pacifiers can be incredibly comforting and helpful for both parents and children alike, especially in the first year of life. They can be utilized to:
Help soothe a crying infant, allowing you to get much-needed mental rest as a parent.
Encourage a fussy baby to fall asleep.
Calm a baby during their vaccination appointments and blood tests.
Lower your baby's risk of sudden infant death syndrome (SIDS).
Safe pacifier usage is also an important factor to consider. Be sure to never force your baby to suck on a pacifier or put products, like honey or sugar, on it to encourage them to use it. Additionally, buying one-piece pacifiers can reduce their chances of accidentally choking on it. If you have any questions or concerns about your child's non-nutritive habits, you can always speak with their pediatrician or children's dentist.
At What Age Should Your Child Stop Using a Pacifier?
While pacifiers aren't bad for your child, they will get to a period in their development where consistent sucking motions can impact their dental growth. That's why the American Dental Association recommends stopping pacifier and thumb-sucking habits by the age of two. If they don't, it could lead to issues like:
The development of orthodontic problems like bite misalignment, which requires extensive intervention down the road.
Gum recession and an increased risk of cavity development.
Speech impairments.
Tips to Help Children Stop Using a Pacifier
In many cases, children will naturally ween themselves off of sucking their thumb or using a pacifier, but if this doesn't happen by the time they're two, it's a good idea to receive non-nutritive habit counseling from their pediatric dentist. Positive reinforcement like encouragement and praise are excellent ways to encourage your child to break the habit. Typically, children turn to this habit whenever they feel anxious or scared as a way to self-soothe, so reprimanding them may have the opposite impact than what you want.
About the Practice
Dr. Vuppala and Dr. Youngblood are pediatric dentists with specialized training and education that allows them to provide children with the top-tier dental care they need and deserve. They understand what unique issues children face and do everything they can to address them early on in their development. If your child is finding it difficult to ween off of thumb or pacifier-sucking, schedule an appointment by visiting Midland Kid's Dentist's website or call 432-520-5437.
Comments Off

on Can Pacifiers Lead to Poor Dental Health for Children?
No Comments
No comments yet.
RSS feed for comments on this post.
Sorry, the comment form is closed at this time.