February 12, 2020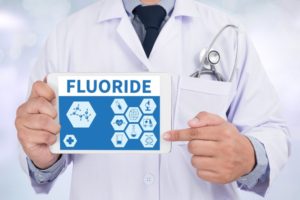 As a parent, you've no doubt at least heard of fluoride. Maybe you've even taken part in the great fluoride debate of our time. Is this mineral that occurs naturally in most water sources safe for your child? Does it really help keep cavities at bay? According to a pediatric dentist in Midland, fluoride is actually great for smiles that are still developing. Keep reading to learn everything that a parent should know about fluoride.
Why Is Fluoride So Important?
Did you know that tooth decay (also known as cavities) is the most common disease in children and adults around the world? Regular exposure to fluoride is actually one of the easiest ways to prevent cavities.
The human mouth is home to millions of bacteria, many of which feed on particles from foods and drinks we consume. When this occurs, the bacteria produce an acidic waste product that erodes the tooth enamel, which is what creates cavities. Fluoride protects the teeth by strengthening the enamel, making it more resistant to acid attacks from bacteria. Not only does fluoride prevent decay, it can even reverse early signs of cavities.
How Much Fluoride Toothpaste Should Your Child Use?
Once your child's first teeth start to erupt through their gumline, use an ultra-soft toothbrush and a dab of fluoridated toothpaste about the size of a grain of rice. Using an amount this small should keep them from swallowing more than they should. When your son or daughter has learned to spit on their own, usually around age three, give them a pea-sized amount of toothpaste and teach them to spit, not swallow when they've finished brushing.
Can Your Child Drink Too Much Fluoridated Water?
Nope! Water fortified with fluoride is actually one of the healthiest beverage options your child has. Even "all-natural" fruit juices contain sugar that can cause cavities. Fluoridated water, meanwhile, actively fights decay.
Keep in mind that fluoride is 100% natural. It's actually impossible to get too much fluoride from your drinking water, thanks to the Environmental Protection Agency's strict standards. Bottled water contains no fluoride, so your child is much better off drinking tap water.
Should You Be Worried About Your Child Swallowing Too Much Fluoride?
If your child swallows too much fluoride, they can develop a harmless cosmetic condition called fluorosis, which manifests as white stains on their permanent teeth later in life. Again, to prevent this, teach your son or daughter to spit, not swallow, when they're done cleaning their teeth.
Fluoride can be controversial, but the benefits it provides definitely are worth the tiny risk of fluorosis. If you still have any concerns about fluoride treatment, talk to your pediatric dentist in Midland.
About the Author
Dr. Weston Jones earned his Doctor of Dental Medicine degree from Case Western Reserve School of Dentistry and then completed a Pediatric Residency at Children's Hospital of Michigan where he served as a chief resident. He is a member of the American Academy of Pediatric Dentistry and is a Board-Certified pediatric dentist. Currently, he practices at Midland Kid's Dentist in Midland, TX. For further questions about fluoride, you can contact Dr. Jones' office at (432) 520-5437.
Comments Off

on What Parents Need to Know About Fluoride
No Comments
No comments yet.
RSS feed for comments on this post.
Sorry, the comment form is closed at this time.