July 5, 2019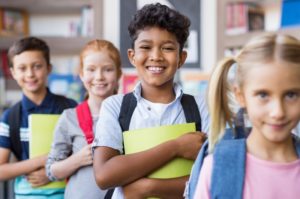 As a parent, the back-to-school season can be stressful. You can put your worries at rest when you get your child's clean bill of health from a pediatric dentist in Midland before school starts up. This way, you won't have to worry about any dental emergencies cropping up during the busiest time of year. Even if your little one keeps up with their oral hygiene routine, a professional cleaning and checkup is vital to ensure their oral and overall health. Read on to learn why. 
When Should Your Child See The Dentist?
There's no how-to book that answers basic questions like when your child should go to the dentist or how much toothpaste they should use at what age. The American Academy of Pediatric Dentistry advises parents to take their little ones to visit the dentist by the time they turn one, or within six months of when their first tooth appears. After that, to ensure that their oral health is in the best shape, it's best to take them for a checkup and cleaning every six months.
What Happens During a Checkup and Cleaning?
Even if your child is diligent about brushing and flossing every day, getting a professional checkup and cleaning is vital to warding off common oral health problems such as cavities. During their routine visit, the pediatric dentist will inspect your son or daughter's teeth and gums to make sure their mouth is developing properly.
After the checkup, a dental hygienist who is professionally trained to keep your little one's teeth and gums clean and healthy will start off by clearing plaque and tartar from their mouth. They have small, specially crafted tools that spot and clear the nooks and crannies that you can't get to with a regular toothbrush. This also helps reduce the number of harmful oral bacteria in their mouth. Next, the hygienist will polish your child's teeth with a slightly gritty paste that helps remove surface stains. They'll then floss their teeth so they can have a great-looking smile just in time for school pictures!
Why Should You Get Your Child a Checkup and Cleaning Before School Starts?
Small smiles are fragile, which is why it's vital that children have routine checkups and cleanings with their pediatric dentist. The Centers for Disease Control and Prevention reports that over 40 percent of children in the United States have dental decay by the time they're kindergarteners. This can commonly be caused by diets that are high in sugar and carbohydrates. Some benefits of routine checkups and cleanings before the school year begins, include:
Less missed school due to dental health problems.
Good oral health can benefit their overall wellbeing.
As a parent, you can save money and time with early treatment.
Preserve their smile for years to come.
The start of the school year can be overwhelming and stressful. As a parent, the last thing you would want on your plate would be the surprise of a dental emergency or oral health problems. When you take your little one to visit their pediatric dentist, you can get a clean bill of health and the peace-of-mind that you deserve.
About the Author
Dr. Weston Jones is passionate about giving his little patients the knowledge and treatment they need to maintain beautiful and healthy smiles into adulthood. He is a Board-Certified Pediatric Dentist and has completed a pediatric residency at Children's Hospital of Michigan where he served as a chief resident. With over a decade of experience, he is passionate about providing families with the high-quality care they deserve. For questions or to schedule a checkup and cleaning for your son or daughter, visit Midland Kid's Dentist's website or contact 432-520-5437.
Comments Off

on Kick Off Back-to-School Season With a Visit to a Pediatric Dentist in Midland
No Comments
No comments yet.
RSS feed for comments on this post.
Sorry, the comment form is closed at this time.