April 13, 2020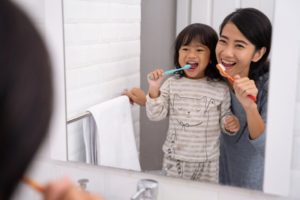 Being cooped up at home has proven to throw off the daily routine of many families. This has affected kids especially. Before the big changes, you'd wake them up, make sure their teeth are brushed, give them a healthy breakfast, and get them on their way to school. Now you may find yourself struggling to get your children to stick to a routine that keeps up their oral hygiene. Your pediatric dentist in Midland can give you some tips to stay on track and help your children maintain healthy smiles.
How Do I Encourage My Kids to Maintain Healthy Eating Habits?
Involvement: Cooking and baking healthy foods with your children is a great activity. By allowing them to participate in the process, the outcome will be much more exciting. Not only will it provide entertainment, but also a beautifully made dish. Who doesn't want to try their own delicious meal?
Have family meals: While the hecticness of life can sometimes make this challenging, a family meal is the perfect time to be a role model for healthy eating. Your kids look up to you. When they see you eating healthy, they will be more encouraged to follow suite.
Stock up on healthy snacks: We all sometimes find ourselves reaching for sugary drinks and treats. Keeping a variety of healthy snack options on hand gives your children more freedom in what they choose to eat and increases the likelihood that they will find something they enjoy. Try things like baby carrots, apple slices, or cheese sticks.
In What Ways Can I Help My Kids Keep Up Their Dental Hygiene?
Brush your teeth together: When your kids see that brushing their teeth is something everyone does, they may be less resistant to do it themselves. Older siblings can help with this too. With some creativity, you could even turn it into a game!
Find fun videos to watch while brushing: This will give your child something to look forward to while they are keeping their teeth clean. This is also a great way to distract younger children while they're having their teeth brushed.
Use music: To ensure that your child is brushing for long enough, playing their favorite song is a fun way to keep track of time.
Let them pick their toothbrush and toothpaste: There are a variety of different toothbrushes and toothpastes made especially for children. Being able to choose their favorite character-themed toothbrush or a fun new toothpaste flavor will make brushing more exciting!
Rewarding good habits: Children are motivated more by fun than they are by future consequences. When they are rewarded for their good habits, they have greater incentive to continue them.
Encouraging dental hygiene and healthy options is important regardless of what methods work for your family. Getting into a healthy routine helps to ensure that your kids develop strong and healthy smiles as they grow! (It may be a good idea
About the Practice
At Midland Kid's Dentist, Dr. Weston Jones and Dr. Thomas Youngblood are have extensive experience in pediatric dentistry and passionate about keeping young smiles healthy. Both are dedicated members of the American Academy of Pediatric Dentistry and prioritize a relaxed and enjoyable experience for children of all ages. For more tips about oral hygiene, visit their website or call (432) 520-5437.
Comments Off

on Ways to Help Your Child Maintain A Healthy Smile During Quarantine
No Comments
No comments yet.
RSS feed for comments on this post.
Sorry, the comment form is closed at this time.