March 22, 2020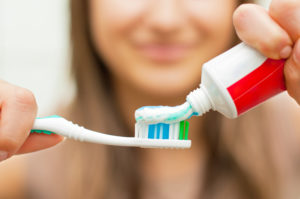 Practicing social distancing during the COVID-19 pandemic is essential for keeping you and your loved ones healthy. To keep your trips outside to a minimum, it's important to conserve what you have at home, including your toothpaste! Unfortunately, children have a tendency to use far more toothpaste, floss, and mouthwash than they should. Your Midland kid's dentist explains just how much they should be using so you can make the most out of your dental products.
How Much Toothpaste Should Your Child Use?
Not only is it expensive when your little one uses too much toothpaste, but it could hurt their teeth as well. Even though fluoride is an important part of protecting teeth from cavities, too much of it can damage a growing smile. Over-exposing developing teeth to this important mineral may cause fluorosis, which is a condition that changes the color and texture of teeth.
Nonetheless, fluoride is an important part of caring for your son or daughter's oral health. In fact, their teeth become vulnerable to plaque and decay as soon as they erupt. To protect their precious smile, the American Dental Association recommends using a smear of toothpaste as big as a grain of rice to clean their teeth. When they turn three, they can start to use a pea-sized drop of children's toothpaste and should begin to learn how to brush on their own. Once they're six years old, they can start using an adult toothpaste with more fluoride.
How Much Floss and Mouthwash Should They Use?
Did you know that dental experts recommend that you start flossing your little one's teeth as soon as they start to fit closely together? While this may seem too early, it's an important part of preventing tooth decay and gum disease. Flossing your child's teeth until they can do it on their own by the age of six or seven is a great way to establish this healthy habit. They should be using about 18 inches of new dental floss each session to keep from reintroducing bacteria into their mouth.
If your son or daughter wears braces or has trouble brushing parts of their mouth, mouthwash is a great way to clean out all those hard to reach places. Typically, mouthwash isn't recommended for children under the age of six. Once they're old enough, they can begin to use a children's mouthwash as directed on the packaging. However, since mouthwash isn't a must for every growing smile, you should consult your child's dentist first.
Social distancing with your family is a great time to perfect their dental routines. Not only will this help your dental products last longer, but it also sets your loved ones up for a lifetime of happy, healthy smiles!
About the Author
At Midland Kid's Dentist in Midland, TX, the health of you and your loved ones is our top priority. In light of the COVID-19 pandemic and the ensuing Executive Order from Texas Governor Gregg Abbott, we will be postponing all non-emergency appointments until after April 21st, 2020. Once this period of social distancing is over, our talented team of dentists would be more than happy to make sure your little one's smile is in tip-top shape with a routine dental checkup. Thank you for your patience, and if you have any questions or concerns, please contact us via our website or (432) 520-5437.
Comments Off

on How to Conserve Toothpaste While Social Distancing
No Comments
No comments yet.
RSS feed for comments on this post.
Sorry, the comment form is closed at this time.