April 16, 2021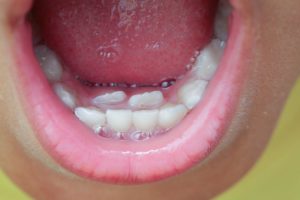 As a parent, you already know that life doesn't always go as planned sometimes. So what happens when your child's highly-anticipated permanent teeth start to come in before their baby teeth have come out? Seeing two rows of teeth in your little one's smile may be alarming at first, but it's usually nothing to worry about. This phenomenon is called "shark teeth" since sharks also get rows of teeth. Read on as we take a closer look at this unique condition and what you should do if your child develops it.
Why Does My Child Have Two Rows of Teeth?
As a permanent tooth grows and begins to come in, it dissolves the roots of the baby tooth above it. Naturally, this loosens the baby tooth and causes it to fall out, therefore making room for the adult tooth to erupt. However, permanent teeth will sometimes develop at a slight angle, which puts them on a trajectory to emerge just behind the baby teeth instead of directly underneath them. Additionally, an adult tooth may come up behind the first row of teeth if the baby tooth's roots don't dissolve correctly.
When Do Shark Teeth Usually Develop?
Your child could potentially grow shark teeth whenever their permanent teeth are beginning to come in. However, studies have found that there are two periods of time during oral development when the risk of shark teeth seems to be the greatest. The first is around the age of six, when the lower front permanent teeth begin to come in. The second occurs several years later around the age of 11, when the upper back molars begin to appear.
What Should I Do If My Child Has Shark Teeth?
In most cases, shark teeth resolve themselves or can easily and safely be handled at home. If you notice that your child is beginning to get shark teeth, check the stability of the baby tooth. If it's loose, encourage your son or daughter to wiggle it until it falls out. However, if the tooth doesn't become loose within a few weeks or if it's causing your child discomfort, it's time to visit your Midland pediatric dentist.
First, they'll figure out if the baby tooth is likely to fall out on its own by performing a visual exam and taking some X-rays. At the same time, they'll also be looking for signs of additional developing shark teeth behind the adjacent baby teeth that you may not be able to see yet. Depending on what they find, they may offer at-home care instructions or recommend extracting the stubborn baby tooth or teeth.
Life is full of surprises, even when it comes to your child's smile! If you are ever worried or concerned about your little one's oral development or how their teeth are coming in, don't hesitate to contact your Midland pediatric dentist right away to make sure your child's pearly whites are healthy.
About the Practice
At Midland Kid's Dentist, Dr. Jones and Dr. Youngblood are proud to offer personalized, high-quality dental care for growing smiles in a comfortable and relaxing atmosphere. With their years of experience, latest dental technology, and passion for friendly dental care, you can rest easy knowing that your little one's oral health is in the best of hands. They offer everything from simple checkups and dental sealants to sedation and tooth extractions to ensure your child gets the specialized care they need. If you're concerned about shark teeth, don't hesitate to contact them via their website or at (432) 520-5437.
Comments Off

on Is Your Child Developing "Shark Teeth?" Here's What to Do!
No Comments
No comments yet.
RSS feed for comments on this post.
Sorry, the comment form is closed at this time.