April 28, 2021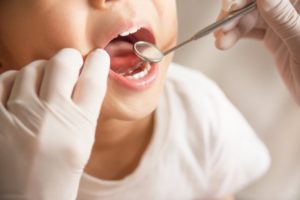 Did you know that the history of dentistry goes all the way back to ancient Egypt, Greece, and Rome? While dental care has a long history that takes it to the modern day, pediatric dentistry is a much newer subject. Specialized dental treatments and services for children didn't become relevant until the 1900s! Even so, it too has come a long way in improving the lives and smiles of children around the world. Let's take a closer look at the incredible history of pediatric dentistry and why it matters for your child today.
The First Step for Children's Dental Care
In 1909 a trained dentist named Minnie Evangeline Jordon opened a dental practice that was devoted just for kids. It was the first pediatric dental practice in the US! Her experience and research in developing oral health helped pave the way for understanding the importance of children's dental care. She gave lectures, presented papers, and even published the first textbook on the relationships between development and baby teeth. Jordon was truly a "pioneer in pedodontics" that began the pediatric dentistry movement.
National Recognition of Pediatric Dentistry
Thanks to Jordon's outstanding dedication, the American Dental Association officially recognized pediatric dentistry as a new dental specialty in the 1940s. With the endorsement of such a well-known and trusted organization, children's dental care was finally put in the spotlight, prompting a 50% rise in children visiting the dentist at least once a year. The Pediatric Dentistry Training Program was founded more than a decade later to increase the number of dentists trained and able to treat children.
Children's Oral Health at the Turn of the 20th Century
In the late 1990s, the Secretary of Health and Human Services gave a national report on the importance of children's oral health. Americans around the nation began to learn more about how the health of their children's teeth influenced their general health. More best practices regarding children's dental products and techniques were developed, and the American Dental Association began to officially recommend that children get their first dental checkup by their first birthday.
Pediatric Dentistry: Special Care for Your Child's Precious Smile
As a parent, you already know that children are anything but just small adults! While it may be easy to forget sometimes, this includes their teeth, gums, mouth, and oral health in general as well. As your child grows and becomes their own person, a pediatric dentist will be able to give them the personalized and specialized care that developing smiles need. They have the advanced training and equipment to handle the unique oral healthcare needs of children, plus they have the patience and compassion to deal with tantrums, tears, and fears. Make sure your little one is getting the care they need by scheduling their next appointment with a Midland pediatric dentist!
About the Practice
Midland Kid's Dentist is proud to showcase the talents and wonderful personality of pediatric dentist Dr. Weston Jones. As a Board-Certified Pediatric Dentist and active member of the American Academy of Pediatric Dentistry, he has advanced training in the latest, most effective dental treatments for children. Alongside Dr. Thomas Youngblood, he strives to create an atmosphere that is fun and relaxing to make every appointment as pleasant as possible. To schedule your child's next checkup, they can be contacted on their website or at (432) 520-5437.
Comments Off

on The History of Pediatric Dentistry
No Comments
No comments yet.
RSS feed for comments on this post.
Sorry, the comment form is closed at this time.