December 5, 2022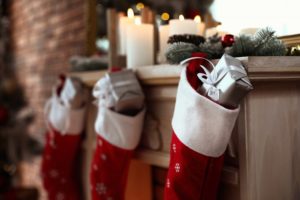 It's that magical time of the year—the holiday season! Family festivities, delicious meals, and exchanging gifts are part of the excitement for children. As you make your list of presents to buy for your little one, you can include some that will also benefit their pearly whites! Read on for three stocking stuffer ideas that are sure to bring healthy smiles all year long.
#1. An Extra-Ordinary Toothbrush
The holidays are a wonderful time to gift someone a new toothbrush! For children, you can purchase an entertaining one that plays music or has their favorite movie character on it. There are even toothbrushes with timers on them to challenge them to clean their teeth in the recommended time. Electric toothbrushes are a great present. They are not only fun to use, but they also have been proven to remove cavity-causing plaque just as effectively as regular toothbrushes.
#2. Flavorful Dental Products
Want to switch it up from the regular mint flavors found in dental products? You should consider purchasing ones that come in a variety of delicious flavors. Toothpaste, floss, and mouthwash can each be found in sweet flavors like bubblegum or fruit. They're perfect stocking stuffer ideas for little ones (or adults who are in touch with their inner child!)! Just be sure to verify that the products contain fluoride and have the ADA Seal of Approval.
#3. Smile-Friendly Snacks
It's so easy to throw some hard candies, chocolate, and chips into a stocking. However, treats can wreak havoc on teeth and gums, especially after the splurging that occurs during the festivities. Although they're certainly tasty, they can increase the risk of cavities and decay. You can switch up the stockings snacks by adding some delicious and nutritious treats, such as gourmet trail mix, low-sugar luxury dark chocolate, or yummy sugar-free gum.
Tips to Maintain a Healthy Smile All Year Long
Taking proper care of your teeth and gums is essential year-round. You and your family can maintain optimal oral health with the following tips:
Practice good oral hygiene (i.e., brush twice a day, floss daily, rinse every day with an ADA-approved mouthwash).
Visit the dentist every six months for a checkup and cleaning. This ensures your teeth and gums will stay in tip-top condition, as well as give your dentist the chance to catch any issue before they become more serious.
Maintain a nutritious diet by eating plenty of fruits, vegetables, lean proteins, whole grains, and dairy products.
Avoid harmful dental habits (i.e., smoking, biting fingernails, using teeth as tools).
With these great oral health gift ideas, you are sure to bring healthy and bright smiles all year long to the children in your life!
About the Practice
Midland Kid's Dentist is eager to help children of all ages achieve healthy, happy, and strong smiles all year long! Whether your child is just a toddler, or you have a teenager, they offer a full range of services for every stage of their dental health. Their goal is to give personalized, expert care while your little one is comfortable. To schedule an appointment, contact them through their website or call (432) 520-5437.
Comments Off

on 3 Stocking Stuffer Ideas for Healthy Smiles All Year Long!
No Comments
No comments yet.
RSS feed for comments on this post.
Sorry, the comment form is closed at this time.