November 4, 2021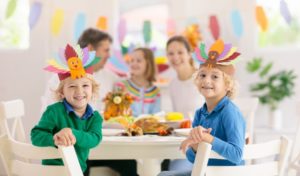 During the holidays, you want your kids to eat healthily, but it can be tough when they are tempted by all the delicious treats made by family and friends. For more than just their diet, as a parent, you are doing your best to make sure they are taking care of their teeth, as well. As you try to plan for a healthy Thanksgiving, here are some helpful toothcare tips from your children's dentist in Midland.
Set Specific Times for Eating
During the holidays at a family gathering, there is food everywhere you look, and it is so easy to snack all day long. Your child is thinking the same thing. When eating intervals are spread further apart, however, it is harder for bacteria to cause trouble for their tooth enamel. Just like managing a bedtime schedule, planning when they will eat while they are out of school for the holidays will allow their saliva to do its part to wash away food particles and protect their teeth in between meals. Brushing and flossing before bed remain as crucial as ever, even if they are staying up a bit later.
Switch Fruit Juice for Water
In moderation, certain fruit juices can have beneficial vitamins for them, but they can also be acidic and have a lot of sugar to be tough on teeth. Even more than that, this is about how beneficial it is to have water throughout the day. With the sugary and starchy foods your child might be eating during the holidays, water helps wash away food particles and keep bacteria from accumulating in their mouths. It stimulates saliva production, which works to neutralize acids produced by the bacteria.
Reduce Snacking
This one goes right along with the point about eating at scheduled times. Besides the fact that snacking tends to be unhealthier than mealtime cuisine, it often includes items of a harder texture (candy) that is more difficult for them to chew and abrasive on their gums. If you can get your kids on board with snacking on carrots, celery, or apple slices, that's a huge win – even if a dip of some sort is involved.
Work Sugar-Free Items into the Mix
Your child probably loves the marshmallows on top of the sweet potatoes, and they've been hoping soda will get approved as a dinnertime beverage but introducing them to more sugar-free options will be big to cut back on unhealthy additives and reduce cavity risk. Sweet potato casserole can be mighty tasty minus the marshmallows, plus we've discussed how much their teeth would appreciate water subbing in for soda whenever possible. Also, desserts that utilize fresh fruit will let them get some of the sweetness they crave in a healthier package than a traditional cherry or apple pie.
It's certainly a challenge considering the sweet tooth that many children have, but there are ways to reduce their sugar intake and make the holidays less trying on their teeth. When they enter the New Year with a happy, healthy smile, the effort you put in for them during the holidays will pay off!
About the Practice
At Midland Kid's Dentist, we understand that taking care of your most precious smiles requires a dentist who knows how to be gentle and make our little patients feel comfortable. Our dentists make sure their patients get the care they need without making them nervous along the way. We offer multiple sedation dentistry options that can help your child be happy and calm during their treatments if needed. And we totally understand how challenging it can be to ensure that your children are eating healthy during the holidays – it can be pretty difficult for adults at times, too. We'll be here after the holiday season for a dental cleaning and exam to make sure their teeth are doing great as they head back to school. To make an appointment, visit our website or call (432) 520-5437.
Comments Off

on Tips for Kids to Have a Cavity-Free Thanksgiving This Year
No Comments
No comments yet.
RSS feed for comments on this post.
Sorry, the comment form is closed at this time.