July 2, 2018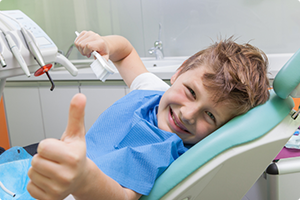 Caring for a child's dental health is never too early. The American Academy of Pediatric Dentistry recommends parents to bring their child to the dentist once the first tooth erupts (six months) and not later than their first birthday. However, children can become scared and hesitant about seeing the dentist for they do not know what to expect. Even to adults, something unfamiliar can be terrifying.
Parents should take necessary steps before, during, and even after their first visit to ensure that their child's oral health can be well maintained. To help them, we at Midland Kid's Dentist prepared a list to follow to ensure that the child's first dental appointment would be a great experience.
Find a dentist who offers state of the art dental services yet at the same time is committed to providing gentle care for optimum comfort like us here at Midland Kid's Dentist.
Kids can be too curious at times, making them love to learn new things. It is best to teach them about proper dental hygiene as early as possible at home. Introduce them the basics of proper brushing, flossing, and rinsing even without using toothpaste or mouthwash.
It is a good idea to ask the dental office beforehand if it is okay to set up a mock dental visit. Let your child meet the staff especially the dentist that would closely work with them for the following months.
Let children practice by doing a role play. Allow them to become the dentist and their favorite toys as their patients. Buying them toys that resemble the apparatus used by dentists is also a great idea.
Avoid using negative words like pain or shots since this can affect how the child views the upcoming dental appointment. It may also serve as a reason for them to develop dental fear or anxiety.
List down all the questions you need to ask the dentist during the appointment to properly maintain their oral health even at home.
Set a good example by brushing, flossing, and rinsing together with your child regularly for them to enjoy the activity more.
Offer a form of reward after the appointment for this can make them look forward to other future visits. It could be a toy or foods, but just make sure to avoid anything too sweet that can harm their teeth.
The proper care of the child's oral health does not start and end with the first visit. Proper hygiene and care should be practiced regularly at home plus scheduling a dental appointment every six months is a must.
Your child also deserves outstanding dental care services. We proudly cater to their First Visit in Midland, TX. Book your appointment with us at Midland Kid's Dentist and let us help them achieve beautiful and healthy teeth!
Comments Off

on Tips on How to Make Your Child's First Dental Visit Go Smoothly – Midland, TX
No Comments
No comments yet.
RSS feed for comments on this post.
Sorry, the comment form is closed at this time.