May 1, 2018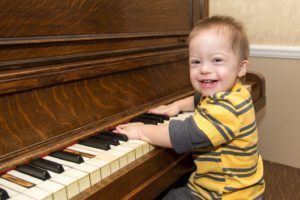 Here at Midland Kid's Dentist, special needs children hold a precious place in our heart. We love to interact with these ones and help them enjoy the benefits of a healthy smile. Nevertheless, many of these children have oral health issues that do not affect other kids. That's why, as your special needs dentist in Midland, we'd like to take a moment to talk about how best to care for the oral health of children who face cognitive, behavioral, and/or physical challenges in their day to day lives.
Regular Dental Visits Are Vital
Visiting the dentist twice a year is important for everyone, but it's especially so for special needs children. That's because the unique circumstances they face may put them at a greater risk for certain oral health problems. For example, some medications they take may contain a high concentration of sugar, increasing the chance that they'll develop cavities. Other children may find it extremely difficult to get into a good routine of brushing and flossing.
A dentist who has experience with special needs children is trained to look for such issues, treat dental problems before they become severe, and coach parents on how to optimize their child's oral healthcare at home.
It's also worth noting that regular dental visits can get your young one into a good routine and helps them trust their dentist. If you wait to take them to the dentist until they have severe problems in their mouth, dental healthcare may become a nightmare for them.
Home Care for Special Needs Children
Establishing a good routine of oral hygiene habits at home is essential for special needs children. Here are a few tips to help you care for your little one's smile on a day to day basis:
Be on the lookout for habits that endanger your child's teeth. Kids with certain conditions may be more likely to grind their teeth or chew on objects that may break or crack their pearly whites.
Educate them on the importance of oral hygiene. Depending on your child's level of understanding, you may be able to impress on them how important it is to brush and floss.
Monitor their brushing and flossing. If they seem unable to do a thorough job on their own, you may have to step in and take over.
Examine your child's mouth for signs of trouble. Children with some conditions may have congenitally missing teeth or teeth that erupt late. You should also take note of things like gum sores or indications that your child's mouth is in pain. All of these circumstances signal that it is time to visit the dentist.
There are few things as precious as a child's smile, regardless of that child's cognitive, behavioral, or physical challenges. If you ever have questions about how to care for your special young one's teeth and gums, please don't hesitate to talk to a pediatric dentist.
About the Dentist
Dr. Weston Jones, one of the two talented dentists in our practice, enjoys working with kids from all walks of life. He completed his residency in pediatric dentistry nearly a decade ago, and he looks forward to gaining many more years of experience in this exciting and fulfilling field. If you would like to talk to Dr. Jones about your child's oral health needs, please contact our office at 432-231-1011.
Comments Off

on YOUR SPECIAL NEEDS DENTIST IN MIDLAND CARES FOR UNIQUE YOUNG SMILES
No Comments
No comments yet.
RSS feed for comments on this post.
Sorry, the comment form is closed at this time.