June 15, 2022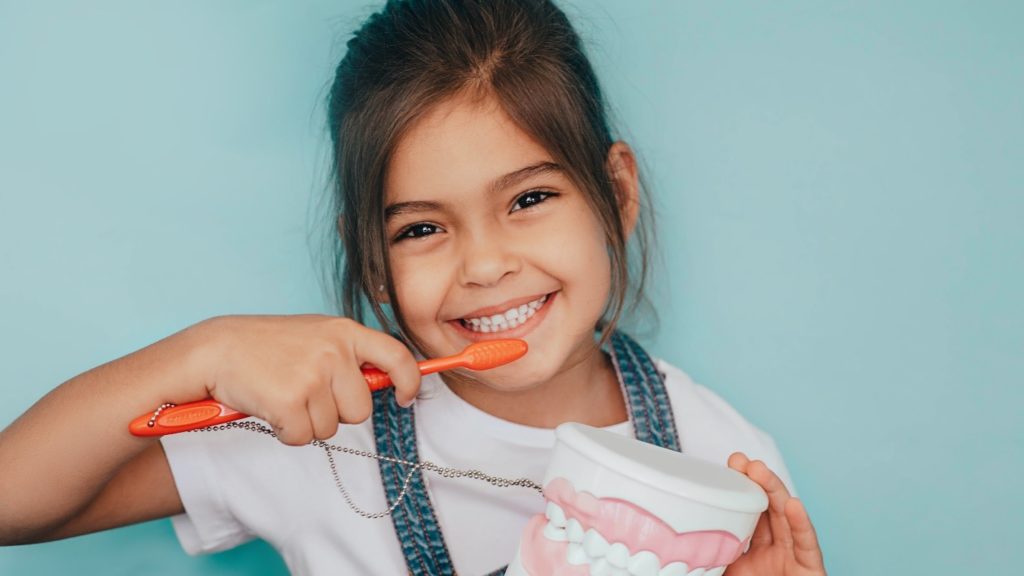 A child's smile is continually evolving and changing from the moment their very first tooth erupts from their gums. That said, it's extra important to ensure that your child's oral health is in the best possible shape, to set them up for a healthy and happy adulthood. However, there are many myths and false facts floating around that misinform and discourage people from taking proper care of their child's teeth. Keep reading to learn more about four of these myths.
Myth #1: "Cavities in Baby Teeth Don't Matter"
If you've heard that it's pointless to brush those little baby teeth, you'd better think again! Even though your child's baby teeth, or milk teeth, will eventually fall out, they still help kids eat properly which provides them with sufficient nutrition. They're also crucial for facial structure and early speech development, so if they are neglected and cavities form, your child could suffer long-term consequences. Cavities are also still quite painful, even if they're affecting baby teeth. If your child has a cavity in their baby tooth, take them to see a dentist promptly.
Myth #2: "Fruit Juice in a Sippy Cup Is Harmless"
Some juices can contain as much sugar as a can of soda, which is quite a lot! The bacteria in your child's mouth feeds on sugar and starches, releasing acids that can lead to cavities. These acids break down tooth enamel and compromise the integrity of your child's teeth (adult teeth are also susceptible to this). Even though the sugar is the primary issue here, the sippy cup doesn't help—it can encourage slow sipping throughout the day, which isn't ideal for your child's teeth. Aim to have your child drink water; and if they must have juice, encourage them to finish it quickly.
Myth #3: "Only Sugar Causes Cavities"
Even though sugar can easily cause cavities, it's not the only threat to your child's teeth. Starches can also increase the amount of plaque inside your child's mouth, which will cause cavities if not removed regularly. The grooves present in teeth can also sometimes contribute to cavities and decay, which is why some children require sealants on their teeth to help prevent bacteria from accumulating.
Myth #4: "Kids Can Brush Their Own Teeth"
If your child is old enough to grip a toothbrush, that doesn't necessarily mean they're capable of correctly brushing their teeth. Young children typically don't have the fine motor skills to effectively clean their mouths and could benefit from a little assistance. In fact, a study published in the Journal of Periodontal Research found that five-year-old children only brushed around 25% of the surfaces of their teeth! Also be sure that your child is using an appropriate amount of fluoride toothpaste when they brush.
When it comes to oral care, establishing good habits at an early age can pay dividends in the long run. Talk with your dentist about your child's oral health and avoid these myths and common misconceptions to ensure that your little one's smile is bright and white.
About the Practice
Midland Kid's Dentist serves patients and families in the Midland, TX area under the leadership of Dr. Weston Jones and Dr. Thomas Youngblood. The practice is proud to offer many different available services including children's dentistry, preventive treatment, emergency care and more. If you have any questions about the article or would like to schedule an appointment, please reach out through the practice's website or give them a call at (432) 520-5437.
Comments Off

on Busting 4 Popular Myths About Children's Dentistry
No Comments
No comments yet.
RSS feed for comments on this post.
Sorry, the comment form is closed at this time.