June 2, 2022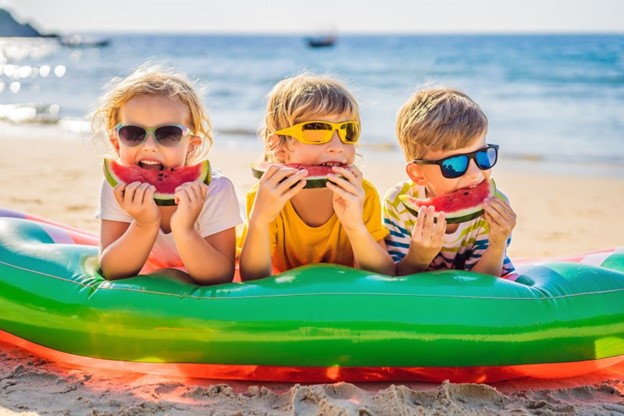 There's nothing like warm weather and sunshine to put a smile on your face! With summer in full swing, you're probably out and about a lot these days and trying to make the most of your vacation. But while you're busy with all your plans, something to keep in mind is your oral health; summer vacation does not mean taking a vacation from personal hygiene! Keep reading to learn about some tips from your dentist to help your smile stay healthy and bright all season long.
1. Drink Plenty of Water
Your body is mostly water—so it makes sense that it's the absolute best beverage for you. Drinking it throughout the day keeps you hydrated and stimulates the natural flow of saliva inside your mouth. This helps to wash away any excess bacteria that remains lingering around after you eat, while also keeping your mouth comfortably moist. It also freshens your breath and cools you off!
2. Pick Tap Water When Possible
Bottled water is especially convenient for when you're on the go, but you should opt for drinking tap water when you can. Tap water often has fluoride added to it, which is a naturally occurring mineral that strengthens your tooth enamel and increases your resistance to tooth decay. This makes fluoride quite beneficial to your oral health; check to see if your town adds it to the local water supply.
3. Avoid Sweet and Carbonated Drinks
An ice-cold Coke or a tall glass of lemonade is the perfect way to cool off during a hot summer day, but you should try to avoid these and similar items when you can. When consumed frequently, carbonated and sugary drinks can easily damage your enamel and stain your teeth!
4. Use a Drinking Straw
Drinking your beverages through a straw will reduce the amount of contact between your teeth and potentially harmful liquids. This way, if you must indulge in sweet or carbonated drinks, you're at least providing slightly more protection for your mouth. Also consider finishing your drinks quickly, rather than enjoying them slowly.
5. Try Tea
Certain teas contain compounds that can effectively suppress bacteria, which in turn will slow down the development of tooth decay, gum disease, and other oral health problems. Be mindful of some tea that has sugary additives or flavorings included.
Of course, the absolute best thing you can do for your smile this summer is to practice regular oral hygiene; brushing and flossing daily will ensure that your mouth is in a healthy state, even if you can't resist the urge to drink a soda! Talk with your dentist if you have any questions about your oral health and follow these tips to ensure that your smile is in the best possible shape for the season.
About the Practice
Midland Kid's Dentist is proud to serve patients and families in the Midland area under the leadership of Dr. Weston Jones and Dr. Thomas Youngblood! Both dentists have several years of experience and expertise in many fields of dentistry, and their practice offers a wide range of available services. If you have any questions about the article or would like to schedule a visit, feel free to contact the practice online or by phone: (432) 520-5437.
Comments Off

on Tips for A Healthier Smile During the Summertime
No Comments
No comments yet.
RSS feed for comments on this post.
Sorry, the comment form is closed at this time.