January 28, 2020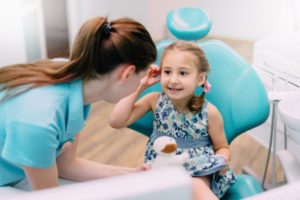 February is about more than just Valentine's Day cards and class parties—it's also National Children's Dental Health Month! Since 1941, dental professionals and healthcare providers have used February as a chance to promote the benefits of great oral health in children all month long. It's an excellent reminder to stop and appreciate your little one's smile and teach them how to take care of it. Find out from your friendly children's dentist in Midland what you can do this month to set your child up for the rest of 2020.
Learn All About Great Oral Health
Unless their tooth is in pain or about to fall out, it can be easy for children to forget about taking care of their mouth. Introducing them to their dentist is a great way to teach them all about their oral health, like what brushing their teeth does and why eating sugar causes cavities. Giving your child a sturdy foundation of knowledge about their teeth and gums is the first step towards getting them excited about taking care of their smile! You may even be surprised to learn some new things yourself about the importance, development, and caring of your child's primary teeth.
Set Up Long-Term Healthy Habits
Did you know that tooth decay is the single most common chronic childhood disease? Teaching your son or daughter to practice a daily dental care routine is a key factor in protecting them from cavities. Your dentist can take the time to easily explain and demonstrate proper brushing and flossing techniques that they can benefit from for the rest of their lives.
There are other important habits your dentist can help with as well. Unconscious behaviors like thumb sucking, nail biting, and teeth grinding can all influence the proper development of your child's permanent teeth and jawbone. Not only will your dentist be able to educate them about their behavior, but they can give you guidance on how to help your little one break these bad habits.
Conquer Dental Anxiety Early
Starting out with a great first impression of dental checkups and visits will usually keep children from feeling anxious about coming back regularly and seeking dental care when they need it. An easy, comfortable visit to your dentist in Midland is a great way to introduce them to all the new sights and sounds that come along with sitting in a dental examination chair for the first time. Associating oral health care with good memories plays a big role in encouraging them to continue coming as they grow.
So celebrate this year's National Children's Dental Health Care Month by getting your son or daughter excited about taking care of their teeth! Instilling good habits with a trip to a friendly children's dentist now will set them up for a lifetime of happy, healthy smiles.
About the Author
At Midland Kid's Dental, you can rest easy knowing that your little one will receive the best dental care in a fun and comfortable environment. Dr. Weston Jones and Dr. Thomas Youngblood are both members of the American Academy of Pediatric Dentistry and fathers themselves, so they understand how important it is to keep growing smiles happy and healthy. To learn more about teaching your child about their oral health, they can be contacted at their website or (432) 520-5437.
Comments Off

on February is National Children's Dental Health Month!
No Comments
No comments yet.
RSS feed for comments on this post.
Sorry, the comment form is closed at this time.