April 7, 2022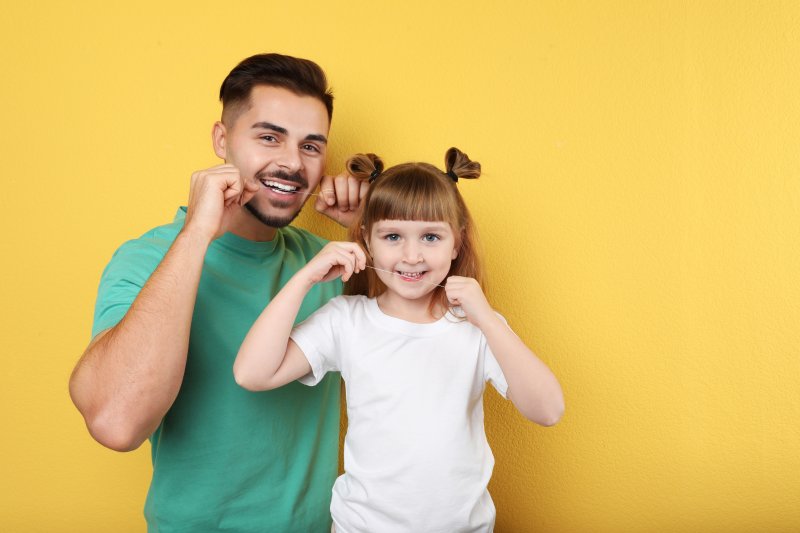 One of the most important ways to clean your teeth is to floss between them daily. By doing so, you can clean the hard-to-reach places between your teeth as well as prevent plaque buildup. This is important for avoiding other serious oral issues, such as gum disease. So, how can you help your little one to master flossing? Keep reading to learn four ways to effectively teach kids how to perform this essential preventive dental care!
#1: Instruct Them Step-by-Step
Firstly, you'll need to show your child exactly what to do when flossing. This means from how much dental floss they'll need at a time, how to wrap it around their fingers, to the proper way to slide it back and forth. Be sure to inform them to make a 'C' shape with the floss so that it hugs the tooth as they scrub it up and down. If they aren't as skillful with a floss, then they can always use pre-threaded dental picks/sticks.
#2: Create a Flossing Routine Early On
Once your little one has teeth that touch each other, it's time to learn how to floss. Try emphasizing the importance of flossing at least daily, especially before going to bed. If they go to sleep without flossing, then the particles on their teeth will have all night to harm their smile. The more often they practice flossing in the evening, the smoother it is to create this habit in the long run.
#3: Make Flossing a Family Activity
Your child will certainly enjoy flossing along with you! This is especially the case if your little one needs the extra push to keep their nightly routine going. It's also a great opportunity to lead by example and to instill the importance of flossing when performing it together.
#4: Give Them Rewards
One of the best ways to motivate a kid is to offer them rewards for a job well done. Simply praising your little one for properly flossing can associate it to a pleasant experience. You can also try giving them treats, such as playing their favorite movie or song.
By keeping these few tips in mind, you'll be able to teach your child to master flossing in no time! And if you ever want to know more ways to keep their teeth clean and healthy, be sure to speak with your dentist about the best practices.
About the Practice
At Midland Kid's Dentist, we proudly deliver excellent, modern, and passionate dental services for your little one. Our expert staff offers personalized attention while making sure our patients are as comfortable as possible during any procedure. We provide multiple advanced treatments, from checkups/cleanings to emergency dentistry to ensure they achieve and maintain their best smile. If you want to know more about how to teach them to floss, feel free to visit our website or call us at 432-520-5437.
Comments Off

on 4 Ways to Help Teach Kids How to Floss
No Comments
No comments yet.
RSS feed for comments on this post.
Sorry, the comment form is closed at this time.