July 6, 2021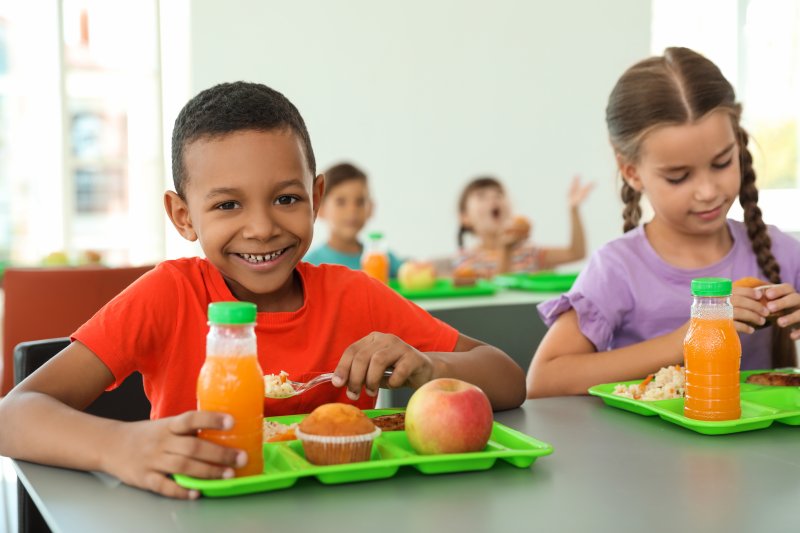 With summer slowly coming to an end, the back-to-school preparations are starting to take place. You may think you have your bases covered with new school supplies, backpacks, and clothes for the school year – but what about lunch? It might be the last thing on your mind since their cafeteria offers food, but your child's choices can leave a lasting mark on their smile. Here's how different school lunches can affect your little one's oral health.
How Does Lunch Affect Oral Health?
It's no secret that sugar is one of the main culprits behind cavities. Any time your child eats sugary or starchy food, it combines with the bacteria in their mouth to produce a harmful acid that wears away enamel. This process can lead to tooth decay, cavities, and even dental disease. If your little one is consistently eating a sugar-filled lunch, it can wreak havoc on their teeth. While you can't monitor their meals in a school cafeteria, you can encourage them to make healthy choices by educating them on the importance of good oral health.
Types of Lunches
Different school lunches can affect your child's smile in different ways. Here's a closer look at what's commonly found on a cafeteria tray and in the lunchbox.
School Lunches
School lunch is convenient for families with busy schedules. If you don't have time to pack a lunch bag for your little one, it's helpful knowing that they can purchase something from the vending machine or cafeteria. Unfortunately, your child's decisions can make or break their oral health. Many of the snacks found in vending machines contain unhealthy amounts of sugar. And sadly, some of the options in a cafeteria are no different.
Chocolate milk is one of the most popular and most widely consumed items found in school cafeterias. While it's technically "healthy" since it contains the same basic nutrients as plain milk, it has significantly more added sugar. Canned fruit is another item that seems like a good option but contains excess sugars and acids that can damage the tooth's enamel.
Bagged Lunches from Home
Packing your child's lunch gives you a bit more control over their diet. However, be cautious about popular foods commonly found in homemade lunches (i.e., juice boxes and PB&J sandwiches). Take a close look at the ingredients list for each item and watch out for added sugars.
When preparing your child's lunch, keep their teeth safe by:
Packing a well-balanced meal that meets their nutritional needs (fresh fruits and vegetables, whole-grains, calcium-fortified dairy products)
Packing a water bottle or other low-sugar liquid
Including a travel-sized toothbrush and toothpaste so they can brush their teeth after eating
As you can see, lunchtime is an incredibly important part of the day. Encouraging your child to make healthy food choices will help them enjoy beautiful, strong smiles for many years!
About the Practice
Our goal at Midland Kid's Dentist is to help toddlers, adolescents, teenagers, and everyone in between, enjoy a relaxing, comfortable dental experience. We can help your little one achieve and maintain a healthy smile they can enjoy for a lifetime. For more tips on helping your child maintain good oral health this school year, visit our website or call (432) 520-5437.
Comments Off

on How Does School Lunch Affect Your Child's Oral Health?
No Comments
No comments yet.
RSS feed for comments on this post.
Sorry, the comment form is closed at this time.