August 28, 2018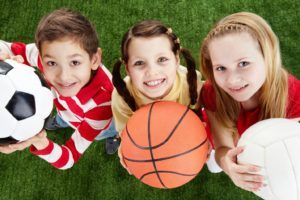 Sports are great for kids. They help young ones to learn about teamwork and self-improvement, and the exercise is fantastic for growing bodies! Of course, sports also come with a risk of injury, which is why you should be sure that your child has all of the protective equipment they need to minimize the chances that they'll suffer serious harm. A custom child mouthguard in Midland can play a huge role in safeguarding your child's smile.
Why Mouthguards Are So Important
Mouthguards are mandatory in many contact sports, such as football, hockey, and basketball. However, not all athletes are diligent about wearing their required protective gear, and they suffer as a result. According to one estimate, the widespread use of mouthguards could help to prevent 200,000 oral injuries each year. Making sure that your child wears proper gear when they're on the field will spare them from the pain of a dental emergency and spare your wallet from the cost of major dental bills. Sportsguards offer protection against:
Broken teeth
Avulsed teeth
Fractured crowns or bridgework
Soft tissue injuries to the lips, cheeks, and gums
Jaw injuries
In addition to protecting the mouth, mouthguards also protect the brain. Since they absorb shock and help to stabilize the head and neck, they may help to prevent concussions.
Custom Mouthguards Offer the Best Protection
Sportsguards can be broken down into three basic categories. The first two are:
Stock mouth protectors that come ready to wear. You can pick these up at any sporting goods store. These tend to be bulky and uncomfortable, and they offer a low level of protection.
Boil and bite mouthguards. Hot water softens this type of mouthguard so a child can bite on it, making it conform to their mouth. While these tend to work better than basic stock mouthguards, they still do not provide the best available protection against injuries.
The third type of mouthguard are custom-designed by a dentist and made specifically to fit well in your child's mouth. These are, without a doubt, the best option because they provide the highest level of protection for your child's mouth and brain. In fact, one study found that football players wearing a over-the-counter mouthguards were twice as likely to suffer traumatic brain injuries as players who wore custom mouthguards.
Another reason to choose a custom mouthguard relates to comfort. Since these guards are formed to fit your child's unique smile, it will fit easily in their mouth. They'll be more likely to wear it during practices and games. Even kids with braces can feel comfortable in a custom mouthguard!
Do you want to save your young athlete from a painful children dental emergency in Midland? Make sure they wear a mouthguard when they're participating in any type of sport.
About the Author
Dr. Thomas Youngblood is a pediatric dentist with 15 years of experience in his field. He is a member of the American Dental Association and the American Academy of Pediatric Dentistry. If you would like to speak to him about getting a custom mouthguard for your child, contact our office at 432-231-1011.
Comments Off

on JUST HOW IMPORTANT IS A CHILD MOUTHGUARD IN MIDLAND?
No Comments
No comments yet.
RSS feed for comments on this post.
Sorry, the comment form is closed at this time.