June 22, 2023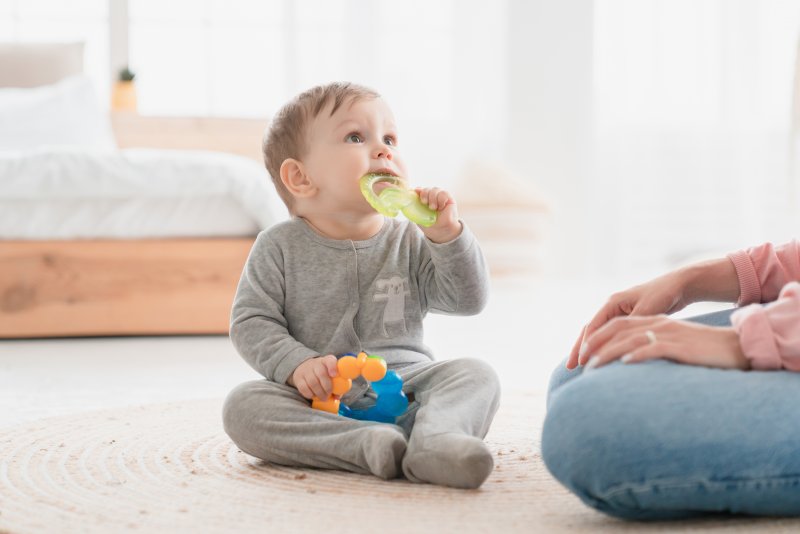 Perhaps you want all your tyke's baby teeth to emerge. After all, getting an infant through the teething process is a challenge. However, you'll first need to help with a final task: managing your child's two-year molars. These four pearly whites cause discomfort as they erupt, so carefully guide your little one. Luckily, your Midland pediatric dentist is here with advice. Read on to learn the symptoms of two-year molars, how to manage their pain, and signs they need dental care.
Symptoms of Two-Year Molars
Aside from the previously-mentioned pain, symptoms of two-year molars match other forms of teething. You should thus expect the following signs from your child:
High Irritability
Excessive Drooling
Interrupted Sleep
Red, Visibly Sore Gums
Chewing on Objects & Clothing
Of course, there are also differences from earlier forms of teething. Many toddlers show no discomfort when their new molars emerge. Others, in contrast, face worse pain due to the teeth being large. Plus, your child may be able to tell you about their discomfort.
Managing Two-Year Molar Pain
Thankfully, you have various options for easing your child's two-year molar pain. Some of the most common ones include:
Use Home Remedies
Home remedies can go a long way in alleviating molar pain. For example, you could place a cool, wet gauze pad on the gums. Another option is to massage the eruption site with your finger gently. There's even the choice of letting your child chew on a wet washcloth.
Take Medications
With a pediatrician's approval, you could give your child some pain relief medication. Acetaminophen (i.e., Tylenol) is the most recommended for babies and toddlers. Aspirin and ibuprofen can also work, but they shouldn't be given to children with asthma. Regardless of type, though, make sure you have the proper dosage for the medicine.
Avoid Risky Items
While you may be tempted to let your child chew as they please, this isn't a good idea. There are objects they should avoid as their molars emerge.
Specifically, don't let your tyke chew on hard plastic toys. These can hurt their teeth and present a risk of BPA exposure. Instead, toys made from latex or silicone may provide extra relief.
Signs Your Child Needs a Dentist
Most of the time, unpleasant symptoms are normal when second molars emerge. If they get severe, however, your tot may need a dentist.
In particular, visit a pediatric dentist if your child has persistent crankiness or discomfort. This behavior could indicate the molars aren't emerging correctly. Left unchecked, the latter issue could cause long-term problems for your little one.
Ultimately, managing your child's two-year molars is worth the effort. You'll come from the situation knowing your tyke has a full smile to enjoy!
About the Practice
Midland Kid's Dentist is based in Midland, TX. Led by its amazing and experienced dentists, our practice offers top-quality dentistry for children of all ages. Our team also provides sedation services for kids who suffer from dental anxiety. Whether your youngster is a baby, a teen, or somewhere in between, we'll help them get a healthy and beautiful smile! For more information or to book a visit, you can reach us on our website or by phone at (432)-520-5437.
Comments Off

on A Guide to Two-Year Molars for Parents
No Comments
No comments yet.
RSS feed for comments on this post.
Sorry, the comment form is closed at this time.