March 10, 2019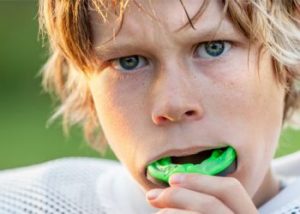 It is every kid's dream to be known in the field of sports. And for parents, they too would want to support their aspiring athletes in any way possible. But since playing softball or boxing can inevitably cause injuries to the players, they are often hesitant in allowing their children to participate in such. The good news is, dental injuries can now be lessened with the use of a mouth guard. It is a protective device that is meant to be worn by those who are into sports—both children and adult. There's no need for you to stop your kids from reaching their dreams! With the help of our mouth guard at Midland Kid's Dentist, your child's dental safety is ensured.
Mouth Guards: Essential Caring Tips
Let's say you already availed of our mouth guard for your kids. The next thing that you should teach them is the proper ways to give their teeth protector the right care. Here are the three simple steps to follow:
Tell your kids to wash their mouth guards
Why is it important to clean the teeth protector? First of all, food particles can get stuck on the oral device, which means that it can promote the growth of bacteria inside the mouth. Second, when these particles are not eliminated, it is easy for the oral structures to accumulate diseases. Gum issues, cavities, bad breath—they can all arise due to plaques and bacteria. And if your kids already suffer from an existing oral problem, dirty mouth guards can even aggravate it further. But this occurrence is completely preventable when the oral device is kept clean. So how are children supposed to wash their mouth guards? Below are the steps:
Rinse the mouth guard using plain water to unstick the unnecessary particles.
Using a mild toothpaste and soft toothbrush, gently scrub the appliance.
Prepare lukewarm water for rinsing. Be sure not to utilize hot water to avoid warping.
Place the mouth guard in its ventilated case for drying.
Instruct them to make use of their case
Mouth guards acquired from the dentists always come with a case. It is usually handy enough so children can easily carry it inside their bags. Remind your kids to store their mouth guard in its case to avoid losing the oral device.
Children should store their mouth guard in a safe place
Mouth guards are not immune to damage. Certain circumstances might contribute to the wear and tear of the oral device itself. Tell your kids to keep their mouth guard in a safe location—it is the most practical thing to do to avoid your need of spending another money for mouth guard replacement.
Remember, a compromised mouth guard cannot do its function well. So it pays to let your kids follow the tips mentioned above.
Protect your little athlete's smile! Never let them go inside the field without wearing our Mouth Guard in Midland, TX. Visit us at Midland Kid's Dentist now. We are located at 4410 N. Midkiff Rd., Suite D1, Midland, TX 79705.
Comments Off

on Mouth Guard Caring Tips Your Child Needs to Know in Midland, TX
No Comments
No comments yet.
RSS feed for comments on this post.
Sorry, the comment form is closed at this time.