June 17, 2019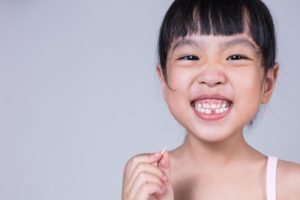 Losing a tooth can be a majorly exciting moment for your child. Not only do they get a visit from the tooth fairy, but they also get physical proof that they're growing up. All this excitement can have them concocting creative plans to dislodge their loose tooth. While you want them to enjoy the moment, you also don't want them to put their mouth at risk. A pediatric dentist in Midland gives you 5 ways you can safely pull your little one's tooth without damaging their mouth below.
When in Doubt, Brush and Floss
Brushing and flossing seems to be the answer to every oral problem. When your child gets excited about a wiggly tooth, tell them to brush and floss regularly to help dislodge it. Not only is this great for their oral health, but the toothbrush can move the tooth to help it break free from the socket. This also keeps dirty hands out of the equation and minimizes bacteria transfer to your little one's mouth.
Eat Something Crunchy
Biting into a crunchy healthy snack like an apple or celery can help remove loose teeth. This is a great pain-free way to help the tooth come out of its socket without the pressure of suspense. When your little one takes a bite, be ready with a helping hand and a camera to capture the moment!
Using Their Tongue as a Tool
If your son or daughter comes up to you excited about a loose tooth, tell them to use their tongue to wiggle it until it comes out. This is a great alternative to using their hands because they won't transfer any bacteria to their mouth. After fiddling around with it for a little bit, your child will be surprised at how easily it breaks free.
The Twist N' Pull
If your child has a stubborn tooth that won't come out when they brush or floss, twisting and pulling it can help. To prevent bacteria transfer, try using gauze to gently shift their tooth and break it free from its socket.
Get a Professional's Help
If none of these options help because your child's tooth is too stubborn, your best bet is to schedule an appointment with their pediatric dentist. This can help avoid any complications and ensure that it's removed in a sterile and safe environment.
Just because a tooth is loose doesn't always mean that it's ready to come out yet. If your child's tooth isn't ready to break free from the socket, when it's pulled prematurely, it could cause excessive bleeding, gum damage, or even infection. If possible, let your child remove their own tooth since they are more aware of their pain tolerance and whether it's ready to come out. After the tooth is removed, if your little one experiences discomfort or bleeding, contact their dentist right away.
About the Author
Dr. Weston Jones completed his Pediatric Residency at Children's Hospital of Michigan in 2009 and has been passionate about providing children with the knowledge and treatment they need to maintain a healthy smile into adulthood. He also worked as a clinical associate professor in the Department of Pediatric Dentistry at the University of Detroit Mercy. As a Board Certified Pediatric Dentist, Dr. Jones understands how to treat fragile small smiles. For questions or to schedule an appointment, visit Midland Kid's Dentist's website or contact 432-203-4233.
Comments Off

on A Pediatric Dentist in Midland Reveals 5 Safe Ways To Pull A Baby Tooth
No Comments
No comments yet.
RSS feed for comments on this post.
Sorry, the comment form is closed at this time.