October 9, 2019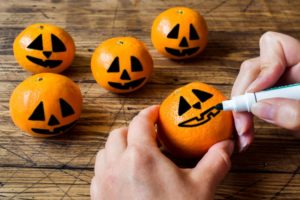 It's pretty much a given that all the neighbors are going to be handing out candy on Halloween this year. Why not stand out from the crowd by giving out sweet alternatives that won't rot children's teeth? These options are just as yummy, but are significantly more mouth healthy. Continue reading to learn 6 alternatives to candy from a pediatric dentist in Midland.
1. Honey
Honey, especially the kind that is raw and unprocessed, can actually provide health benefits, such as fighting tooth decay and gum disease. This is because it contains antiseptic properties that fight the bacteria that cause these issues. However, be sure to stick to local honey if you can, as local farmers won't put additives in it, like extra sugar, that make it unhealthy.
2. Mini Bottles of Water
Walking from door to door can be quite the workout. Many families forget to bring a drink with them on their neighborhood trek. If you slap a festive Halloween label on the water bottle, the kids won't mind one bit. The parents won't, either!
3. Apple Cider Packets
Halloween night is typically chilly, even here in Texas. For that reason, you can hand out packets of festive autumn drinks, like apple cider. Drinks like these will warm kids up after walking around in cold weather, and they taste great too. Not to mention the fact that apples, and by extension apple juices, are chock full of antioxidants.
4. Pumpkin Oranges
This is a perfect idea if you're feeling a little crafty this Halloween. Buy some organic oranges and use a permanent marker to draw some jack-o-lantern faces on the peel. Oranges contain lots of vitamin C. However, they are pretty acidic, which can soften the enamel of your teeth. Make sure to advise the kids to wait at least 30 minutes after eating the oranges to brush their teeth. This gives saliva a chance to neutralize the acids in the oranges. While citrus fruits like oranges are highly acidic in nature, they are still a much healthier alternative to candy.
5. Popcorn Packets
Popcorn is a great alternative to candy, yet kids will still love it. It contains almost no sugar. However, be careful to let the children know not to bite down on the kernels, as that could chip the tooth enamel. Moreover, popcorn husks could get stuck in the teeth, so be sure they floss afterwards.
6. Festive Fortune Cookies
You can sometimes buy orange and black fortune cookies at the grocery store that come loaded with spooky fortunes. Kids will love reading their fortunes out in a ghostly voice, and their teeth will be grateful for the lower sugar content than traditional candy.
Even though candy is a Halloween tradition, that doesn't mean the children in your neighborhood have to suffer from tooth decay. Try handing out these sweet alternatives this Halloween. Their teeth will thank you.
About the Author
Dr. Thomas Youngblood graduated from the University of Texas Health Science Center at San Antonio Dental School in 2002. He holds active memberships in the American Dental Association, the Texas Dental Association, the Permian Basin Dental Society, and the East Texas Dental Society. He is also an affiliate of the American Academy of Pediatric Dentistry, so you can trust that he knows how to take care of young smiles. For more Halloween tips, you can contact Dr. Youngblood's office by clicking here or calling (432) 520-5437.
Comments Off

on 6 Sweet, Tooth-Healthy Alternatives to Halloween Candy
No Comments
No comments yet.
RSS feed for comments on this post.
Sorry, the comment form is closed at this time.