June 1, 2018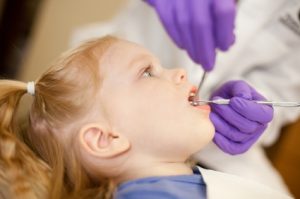 Midland mommies, we at Midland Kid's Dentist understand how convincing kids for a dental appointment could be challenging. If you are one of those who tried everything from motivational speeches to reward system just to encourage them for a Regular Dental Check-up, why not tell them the real stories from dentists?
Here are six of the weirdest things that some dentists have witnessed while on duty. Kids, you might need to brush, floss, and do a complete dental check-up routine right after.
The Buggy Thingy
A young boy patient excitedly jumped into the dental chair on his first dental trip. The boy's parents told the dentist that he used to rub the other side of his mouth a lot. After checking the patient's mouth, he was shocked to see wriggling maggots on the boy's swollen gums.
Growing Plants in the Mouth?
While performing a root canal treatment, one dentist noticed a seed-like thing on the patient's gums. When he looked closely into it, there he saw that it was actually a tomato seed. What's worst? It begins to sprout a tiny plant!
Try Not to Throw Up
As what the anonymous dentist told, an old woman asked to have her dentures repaired. After taking out the dental appliance, the staff was about to vomit due to the smelly device! The culprit of the foul odor? Rotten foods and infected gums.
Fall Out Tooth
For one dentist, "neglect" is the number one cause of any dental horror stories. For instance, harmful particles in the mouth such as tartar and plaque can be so severe that it acts as a bridge between the teeth. Once the build-up is removed during professional teeth cleaning, teeth fall out because there is nothing to hold them in place.
Jaw Dropping Scenario
Another anonymous dentist shared a jaw-dropping story about a patient whose jaw broke strangely in half. As a result, her mouth was wired shut for a couple of months.
Taking the oral health for granted may result in an undesirable outcome, such as these. For your child's protection, take them to the dentist regularly.
Midland Kid's Dentist is always ready to take action involving your child's oral health. If you want to experience secure and more child-friendly Regular Dental Checkups in Midland, TX, contact us and book your appointment at 4410 N. Midkiff Rd, Suite D1, Midland, TX 79705.
Comments Off

on The Dentists' Stories: Weirdest Things They've Seen at the Dental Chair in Midland, TX
No Comments
No comments yet.
RSS feed for comments on this post.
Sorry, the comment form is closed at this time.